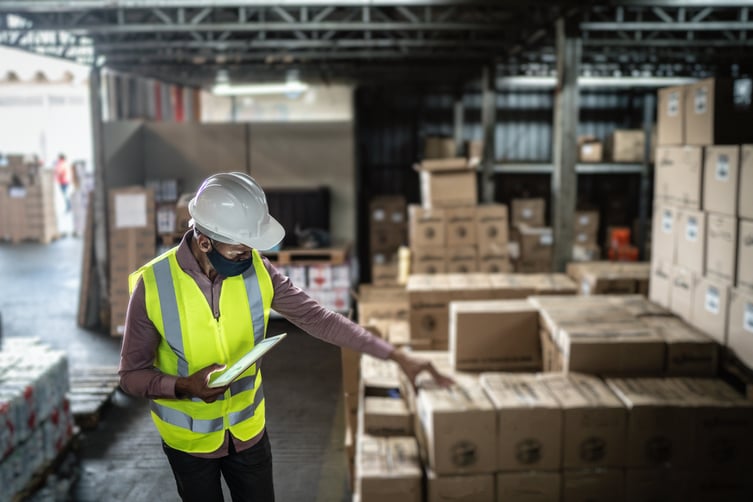 In a perfect world, we'd imagine that the products we create go directly from the manufacturer to the retailer and eventually end up being purchased and used by the consumer. What's easily forgotten about is what happens to products that end up being returned by the consumer, products that are discontinued, or inventory that has been over-purchased or simply isn't getting sold by the manufacturer.
This is where the importance of a strong liquidation and discounting program takes place - to maximize the value recovery of existing products taking up valuable warehouse space and wasting money.
Liquidation programs are one of the most popular ways to deal with excess inventory. It can be a great way for companies to get rid of unsellable items, reduce costs, and make room for new inventory. However, liquidation isn't as simple as throwing everything in a box and selling it off at a deeply discounted price. There are challenges that come up along the way that can impact your ability to sell all your excess inventory or even find buyers to purchase it in the first place.
Challenge #1: Multiple product categories and types of excess inventory
So what's so scary about inventory management during a holiday season?
The first challenge applies to manufacturers who handle multiple product categories and therefore have varying excess inventory types. For example, discounting cold chain products such as dairy will have more complex storing, logistics, and shipping processes to take into consideration than a shelf-stable product such as canned or home goods.
When you're liquidating excess inventory, it's important to keep track of the different types of products you have in stock, their expiration dates, and what type of excess inventory category they fall into.
Slow-moving inventory refers to the inventory you have on hand that exceeds projected sales and therefore isn't being sold at the rate expected. It's typically caused by inaccurate demand planning models that lead to overproduction.
Obsolete inventory includes products that have been discontinued, undergone packaging changes, or are seasonal and therefore not relevant to be sold.
Short-dated inventory includes excess goods that are too close to expiration dates or customer guarantee dates, wherein the retailer or buyer no longer wants to purchase due to the shorter shelf life.
Because of the differences between slow-moving, obsolete, and short-dated inventory, it's critical to understand the urgency with which each category of product needs to be sold.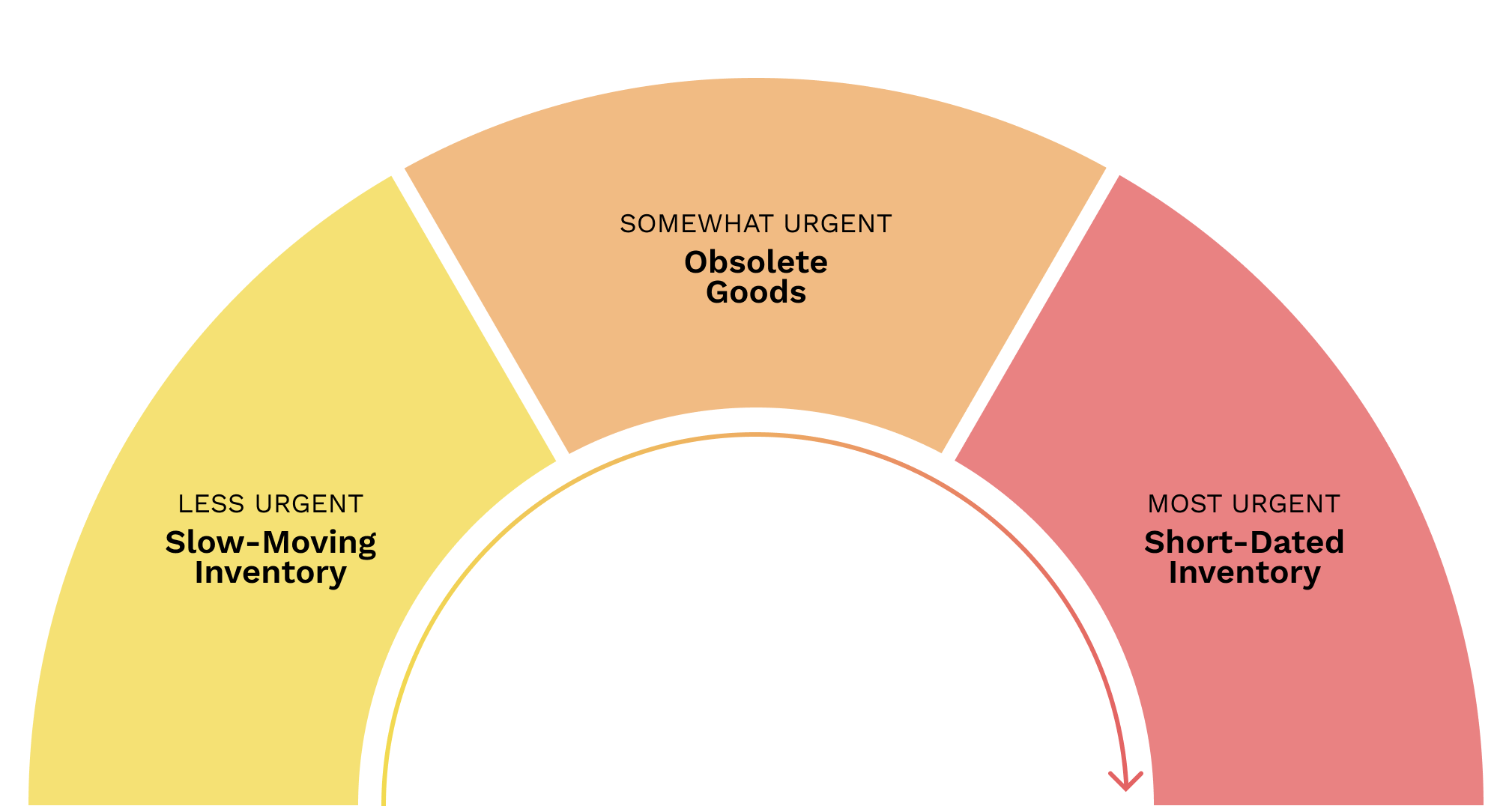 For example, short-dated inventory tends to be the most urgent to liquidate due to its short shelf life. Acting quickly is critical to prevent food from being sent to the landfill.
On the other hand, slow-moving inventory that hasn't fallen into the short-dated inventory category can be treated less urgently since there isn't as high of a risk of losing money due to shelf life.
Challenge #2: Logistics and an ever-changing supply chain
It's clear that the past few years have resulted in a tumultuous supply chain, largely driven by the pandemic, inflation, labor shortages, and the Ukraine-Russia war. Because liquidation programs rely heavily on logistics and supply chain, it's critical to stay as proactive as possible in an ever-changing supply chain system.
A way to stay proactive is by prioritizing an organized warehouse and WMS (warehouse management system) so you can easily sort and prepare inventory for liquidation.
If you don't already have a way of tracking your inventory through its lifecycle - from the time it arrives at your facility until they leave - you may find yourself in trouble when it comes time for it to be sold into the secondary market.
By staying on track with your warehouse and inventory, you have more time and control to discount your inventory quicker and therefore have more time to organize logistics such as shipping.
Using digital tools can also help solve logistics problems such as building out truckloads and seeing whether or not your buyers have the ability to pick up your excess inventory.
Challenge #3: Low visibility into available excess inventory and between teams
Unfortunately, it's tough to stay organized and be proactive if you do not currently have visibility into what excess inventory is available. This can be due to a lack of data or analytics in your system that would provide this visibility, often caused by outdated manual processes and not enough resources going into liquidation programs.
Liquidation is a sales activity that requires automation in order to truly be effective since time is of the essence when it comes to perishable products and short-dated inventory. There is only so long you can wait before their quality starts to decline, and if you're not able to sell them quickly enough, this could result in more losses.
When the majority of teams are relying on emails, phone calls, faxes, and spreadsheets to conduct secondary sales, CPG manufacturers have an opportunity to leverage technology to engage secondary market buyers more effectively.
As Johnsonville, a Spoiler Alert customer, shares:
"Being able to join Spoiler Alert's platform has helped us send offers to all of our customers at once versus using a time-consuming waterfall approach where we had to deal with different customers on different days. The platform definitely has helped speed things up - it's a much more robust process today than it was before we were using Spoiler Alert."
Discounting programs are complicated and require input from finance, sales, supply chain, operations, warehouse, and procurement teams. Many companies don't even have an established process by which these teams can collaborate effectively during times of crisis like bad sales seasons or unexpected demand shifts.
In fact, only 18% of CPG companies' liquidation programs are considered very mature or best-in-class, representing a disparity and knowledge gap between how companies are handling liquidations today and how they could be performing better. Digital tools that provide advanced analytics in real-time and collaboration between teams can start to close this gap.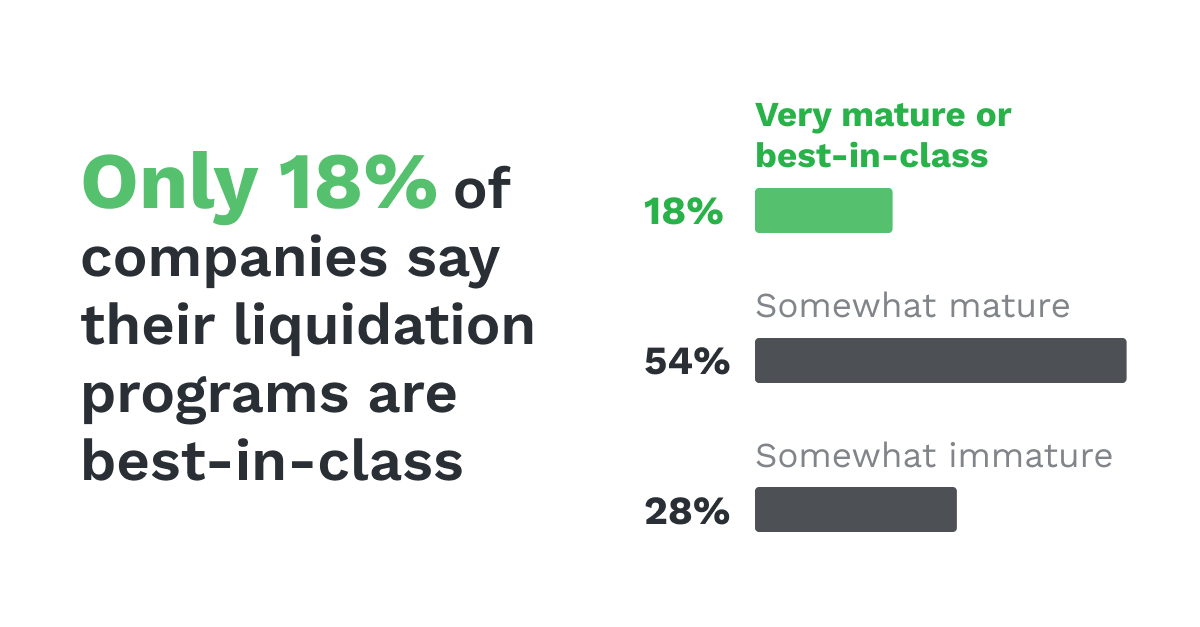 Challenge #4: Liquidation teams aren't prioritized and work with a small budget
With the majority of companies reporting that their inventory liquidation efforts are lacking in maturity, it's clear that many don't have a process for maintaining accurate data about secondary sales. If you do not have a dedicated team or employee to handle inventory discounting or liquidation, or if your current process is ineffective and deprioritized, you could be losing even more money.
A main factor as to why secondary sales aren't prioritized is the fact that it's generally seen as a lower value effort than primary sales, which is understandable since primary retailers purchase inventory at a higher price. However, this means that there is an untapped market with low competition that should be taken advantage of to minimize financial losses.
This could be avoided by having a dedicated team or full-time employee whose main focus is on inventory liquidation and maximizing value recovery. In Spoiler Alert's Technological maturity in the secondary CPG market report, only 18% of companies assign a full-time team of two or more to inventory discounting and liquidation.
If your company doesn't have the capacity to do this, management can implement an incentive program for their primary sales team to put more focus on secondary sales.
Challenge #5: Lack of buyers
The fifth challenge of liquidating inventory is a lack of interested buyers or difficulty acquiring new buyers. In fact, 42% of CPG companies struggle with finding and onboarding new buyers because they don't have the time to source new clients. As a result, the majority of them operate with a buyer network of just 4 or fewer.
Partnering with a company like Spoiler Alert, which has a dedicated Buyer Engagement team and over 600 vetted buying organizations, can help your team expand and diversify where you can sell into. The more buyers in your network that you have, the more likely you are able to get your excess inventory sold into the secondary market.
To maintain a healthy and effective relationship with your buyers, it's important to list inventory on a consistent basis, be open to feedback, and set expectations.
It's time to overcome these challenges
The liquidation process can be complex, but it doesn't have to be. Avoiding the 6 common pitfalls outlined above will help keep the process running smoothly and efficiently and therefore reduce financial losses, which is the ultimate goal.