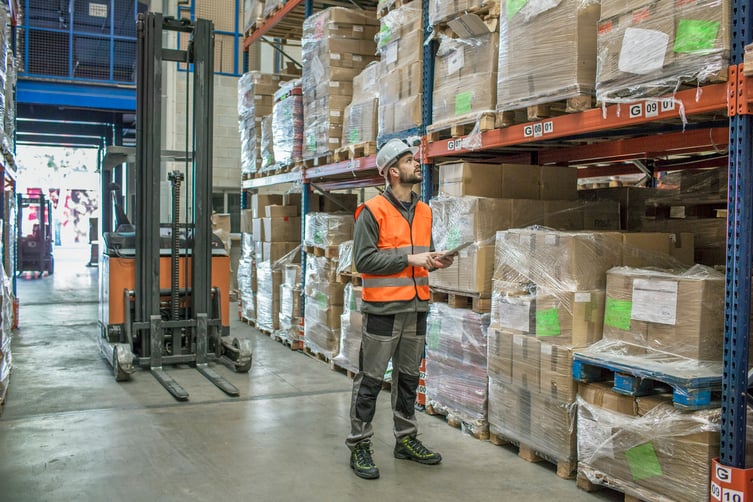 Rebranding is common in the CPG industry because companies want to keep their products current, modern, and relevant to consumers. However, this also means they sometimes end up with obsolete inventory. If you're involved in product rebranding, it's not a question of whether you will have slow moving or obsolete (SLOB) inventory, but how you will manage it. A clear plan from the start can turn a potentially expensive situation into an opportunity for profit.
Why do companies rebrand their products?
As a business, rebranding can be an overwhelming task to take on. There's a variety of factors to consider - whether it be new designs, repositioning your mission, reformulating ingredients, sourcing new machinery, or what to do with your previous versions of your product. All of this can be a massive financial investment but is typically necessary in order to stay relevant, especially with ever-changing consumer behaviors.
Covid-19 is a great example of brands adapting their products to stay relevant during changing times. For instance, many companies offered e-commerce and delivery for the first time, and companies such as Anheuser-Busch and Hanes Brands began to include medical supplies and hand sanitizers in their product line.
Rebranding itself can consist of a minor change, such as updating a singular product's label, to changing your company's logo, and updating your entire product line with new packaging and ingredients. Rebranding can also occur with mergers and acquisitions when companies that are acquired by larger brands integrate some of the larger company's brand elements. Whatever the reason, rebranding is a great opportunity to modernize your brand, differentiate from competitors, improve brand reputation, expand your audience or geography, reinvigorate sales, and more. In fact, about ¾ of the S&P 100 companies will rebrand within their first 7 years.
Today, we'll focus on some basics when it comes to rebranding products and how to manage the slow moving or obsolete (SLOB) products that result from it.
Steps to consider in a rebrand
When you start the rebranding process, there are various steps to take early on, such as:
Collaborate with all necessary stakeholders
Understand your target audience
Ensure the rebrand is still aligned with your company's values
Stay authentic to your brand
Conduct competitor analysis and IP due diligence
Incorporate feedback or use focus groups
Plan marketing and advertising strategies
Understand the financial impact
Manage obsolete

inventory
These are only some of the steps involved in a rebranding process - it gets a lot more intricate when considering the timing of your rebranding launch, hiring additional labor if needed, and sourcing new machinery to handle any packaging updates.
A good example of a rebrand is Kraft's Macaroni and Cheese that's hitting shelves in August. The updated packaging includes an updated name from macaroni and cheese to mac & cheese to "reflect the way fans organically talk about the brand," along with an updated logo, photography, and more. The focus on the noodle smile, their "most recognizable asset," and updating their name to how consumers refer to the product, shows how Kraft is incorporating their consumers' behaviors while staying authentic to their brand.
With sustainability being a growing trend among consumers, it's also a good idea to try to get ahead of the trends by incorporating sustainable packaging alternatives or including natural and organic ingredients when reformulating products. After all, a product rebrand is a perfect opportunity to meet new consumer trends.
Reasons rebranding leads to obsolete inventory
Slow moving and obsolete inventory results from a variety of factors, one of which is rebranding products. Whether it's caused by the rebranding process or you decide to rebrand because of these factors, here's what you can expect to lead to SLOB inventory:
Retailers or customers have canceled additional orders due to low demand
Your product line is too diverse and you decided to cut SKUs in a rebrand to invest in top-performing SKUs
Mergers and acquisitions can lead to adding brand elements from the new partner or parent company
Rebranding can be a time-consuming process and any disruptions or delays can lead to perishable products reaching their

customer guarantee date

, making them no longer saleable
Similar to the previous point,

supply chain challenges

such as ingredient shortages due to the Russia-Ukraine war can set you back if you were relying on a specific ingredient in a reformulation
Products can be considered obsolete if you only want your updated and rebranded products sold at your primary retail customers
Rebranding isn't always successful - if consumers aren't interested in the new product, you'll need to find an alternative channel to sell the product to
Align timeline with manufacturing and sales cycles
By planning your rebranded products around your manufacturing and sales cycles, you can help determine when your new products can be available for sale and give you a timeline to liquidate most of your SLOB inventory.
When dealing with multiple rebranded products that have differing cycles, this is especially critical in order to ensure you're not left with a large volume of SLOB inventory at the same time.
Make sure that you leave plenty of room for error - even a minor spelling mistake on updated packaging can set you back weeks or even months.
Making room for rebranded product
When planning for a rebrand, have a plan in place to clear out the obsolete products that result from a rebrand as soon as possible. You don't want to store SLOB inventory in your warehouse when you could be using that space for your new products that can be sold at a higher margin.
There are a lot of costs involved with warehouse storage - whether it's paying for the space, energy costs, or labor costs. You can save money by liquidating the SLOB inventory into discount retail channels. Not only are you creating more room for your rebranded products, but you're maximizing the value recovery of your slow moving or obsolete products. For perishable products, the earlier you can liquidate them, the more likely you are to receive a higher price for them.
So, it's critical to have a liquidation plan in place early on in the rebranding process to make room for your new product and recover some costs.
Figure out a liquidation strategy
A robust liquidation strategy should be a key part of the overall rebranding process. Your overall inventory management strategy will determine how you handle the obsolete or remaining stock once the brand is complete.
When clearing out your old inventory, there is a hierarchy of options you can consider in order to maximize your value recovery, increase the sell-through rate of the SLOB products, or even contribute to a good cause.
If you are not able to sell your SLOB inventory to your primary customers, the next step is to liquidate the products to secondary discount channels. Always try to opt for donations or recycling before relying on disposing of your obsolete products.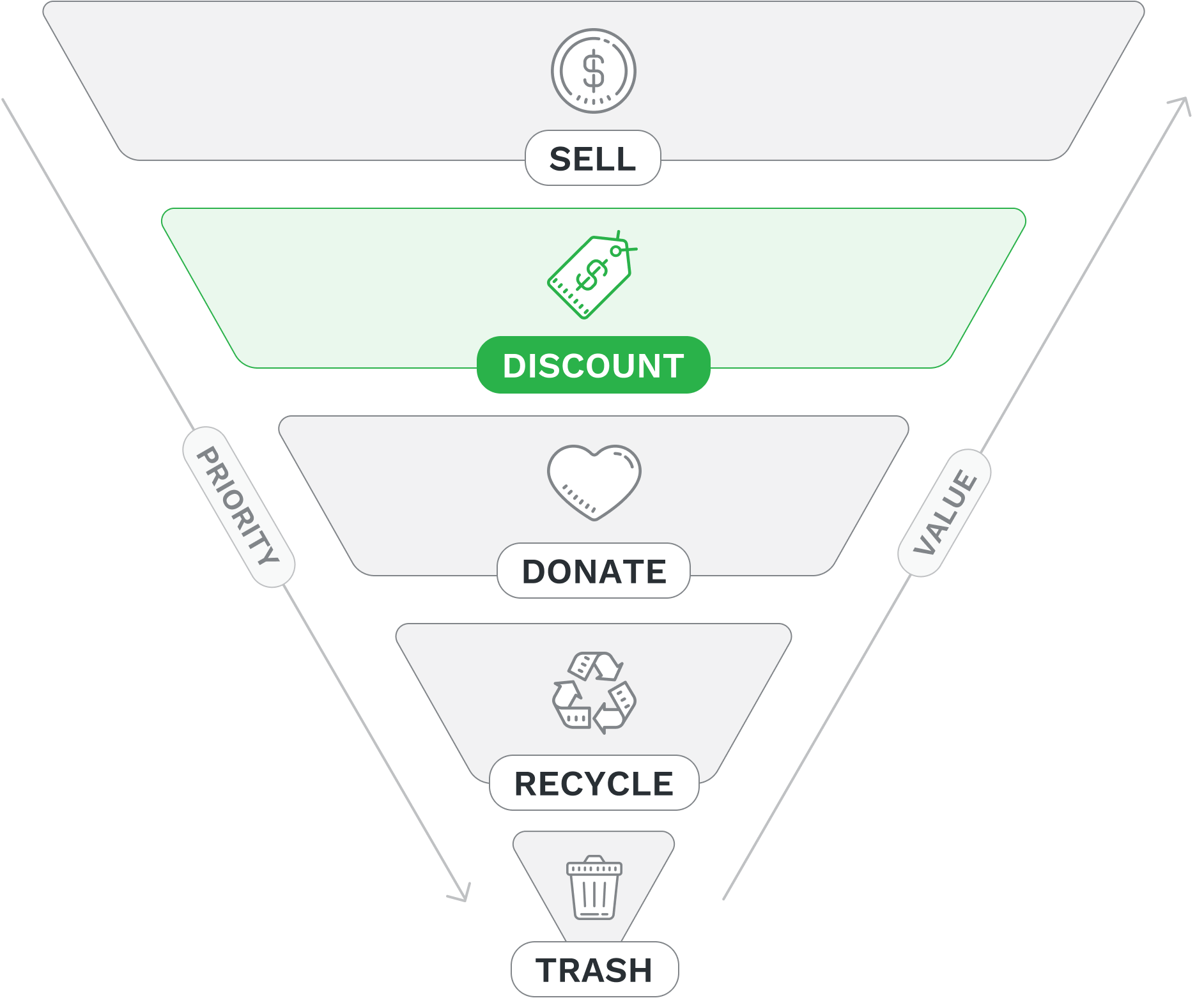 While you may not generate as much revenue as you would have when selling these products as normal, you'll still be contributing to your bottom line, and saving warehouse space for the updated inventory that ultimately costs you money.
Excess inventory is inevitable but manageable
Excess inventory is inevitable, whether you're going through a rebrand or not, but that doesn't mean you can't take preventative steps to reduce the amount of SLOB inventory you have left over as a result. Digitizing and automating your liquidation processes is a key way to increase speed to market and make room for new products in your warehouse or distribution center.
Remember, you can't just rebrand a CPG product and hope for the best. Managing SLOB inventory is a critical part of ensuring a smooth transition for your customers and making sure it doesn't impact your bottom line too much. But if you're proactive about how you manage this inventory, you can help reduce any negative impact it has on your business in the long run!
Check out Spoiler Alert x HelloFresh's latest E-Book:
A Beginner's Guide to Food Waste.