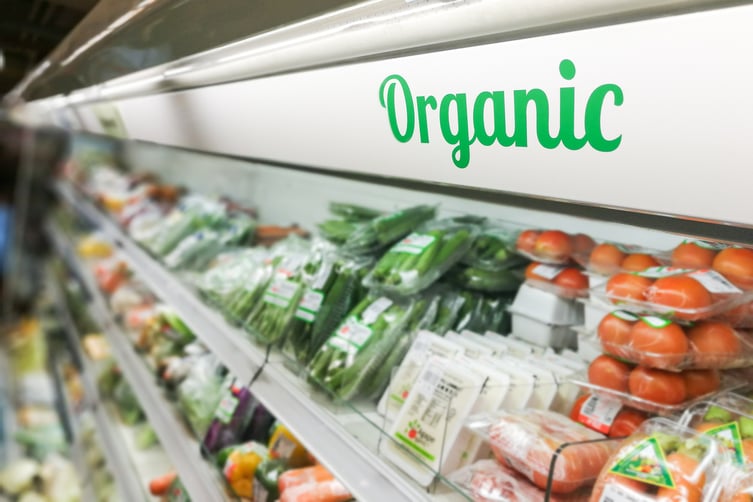 In recent years, the quest for sustainability in the food industry has been a top priority. It's well known that food production is a major contributor to climate change, contributing to 37% of the world's greenhouse gas emissions. Luckily, there are many innovative ideas that can help us solve this problem to ensure the future of the world's food supply depends on a sustainable system. Let's take a look at some of the growing sustainability trends in the food space happening in 2022.
1. Natural and organic food
The trend of organic and clean eating continues to dominate the food industry as more consumers care about healthy eating and where their food comes from. These items often have higher prices associated with them and are not always easy to find, especially in food deserts, but they are a great alternative to processed foods.
Environmentally friendly, organic food is grown without pesticides or synthetic fertilizers. It's also typically healthier than conventionally produced food because it contains more nutrients and fewer preservatives.
Organic and natural products are becoming increasingly popular among consumers looking for an environmentally friendly alternative to their standard grocery store trip.
Organic food sales around the world are expected to reach $894.7 billion
by 2028 compared to $56.4 billion in 2020.
As demand increases for these types of products and manufacturing become more efficient, prices will likely drop over time.
For brands and manufacturers, the rise of consumer interest in natural, organic, sustainable, and healthy (NOSH) foods presents an opportunity to update products to be organically certified to meet this trend.
2. Plant-based and vegan foods are gaining popularity
People are increasingly turning to vegan and vegetarian food options, as well as vegan meat alternatives. This is due in large part to the fact that veganism has become more mainstream, with celebrities and influencers promoting it through their public image. Additionally, plant-based foods are typically better for the environment, and healthier than their traditional counterparts, and consumers are starting to care more about animal welfare.
The truth lies in the numbers: plant-based foods have surpassed general food sales growth, increasing 54% in the last three years. You'll find many restaurants have been updating their menus to be inclusive of plant-based options, and many food manufacturers are creating plant-based alternatives, like what VegoBears is doing with gummi bears and Belvas Belgian Chocolate is doing with marshmallows. We can also expect that plant-based meat will continue to be improved upon to imitate both the flavor and mouthfeel of real meat, unlike some vegetarian alternatives such as veggie burgers that have been on the market for years.
It's important to note that while some plant-based meats and alternatives can be healthier, some products can be high in saturated fats and contain fillers and added sodium. When choosing plant-based alternatives, avoid artificial ingredients and added sugars on food labels.
When looking to diversify product offerings to meet the demand for plant-based options, brands should aim to create them as healthy as possible as both the natural and plant-based product trends are being led by the younger generations.
3. Technology improving supply chain efficiency
Technology is becoming increasingly more prevalent in all aspects of the grocery and food supply chain. AI and machine learning are being introduced to manage inventory even in the restaurant sector, and companies like Apeel and Mori use technology to keep produce fresh longer at the farming and manufacturing stage.
Technology has been integrated into stores to improve customer experience - think about how common self-checkout systems and mobile payments are now.
Amazon launched their Amazon Go stores with their Just Walk Out Technology, allowing for a checkout-free shopping experience that detects which products are being taken from or put back on the shelves via a virtual cart.
Other grocery stores, such as Giant, are implementing Flashfood, an app that allows shoppers to purchase discounted groceries that would otherwise have gone to waste.
Companies are even experimenting with drones and robots to deliver groceries and products to homes more efficiently. This could also mean that products can be delivered directly from the manufacturer or producer, cutting out the middleman and reducing overall waste and fuel emissions.
For consumers, the introduction of technology typically means they can expect to make more informed decisions about their purchases and can make more efficient trips to the grocery store. For businesses, it's important to keep up with new technologies as consumers begin to expect these types of efficiencies when they see them used by competitors. In addition to improving efficiencies, adding technology can play an impactful role in reducing food waste - the #1 solution to fighting climate change, according to Project Drawdown.
4. Reusable packaging is on the rise
Alternatives to single-use packaging are being demanded by many consumers, especially by Gen Z and Millennials, as concern for the environment is increasing. With only 9% of the world's plastic being recycled, reusable packaging is a great alternative to single-use packaging as it helps reduce waste, costs, and carbon footprint.
Not only does reusable packaging help the environment, but it also provides an enhanced customer shopping experience as brands have the opportunity to elevate their products' designs that blend form with function.
In addition to reusable packaging alternatives, bulk stores and zero-waste shops are becoming more popular across the nation. Buying in bulk does not only save consumers money but drastically reduces the amount of packaging waste. In many bulk stores, consumers can bring their own reusable containers so that they can have a zero-waste shopping experience. Similar to bulk stores, zero-waste shops typically supply food, household goods, and health and beauty products in minimal packaging.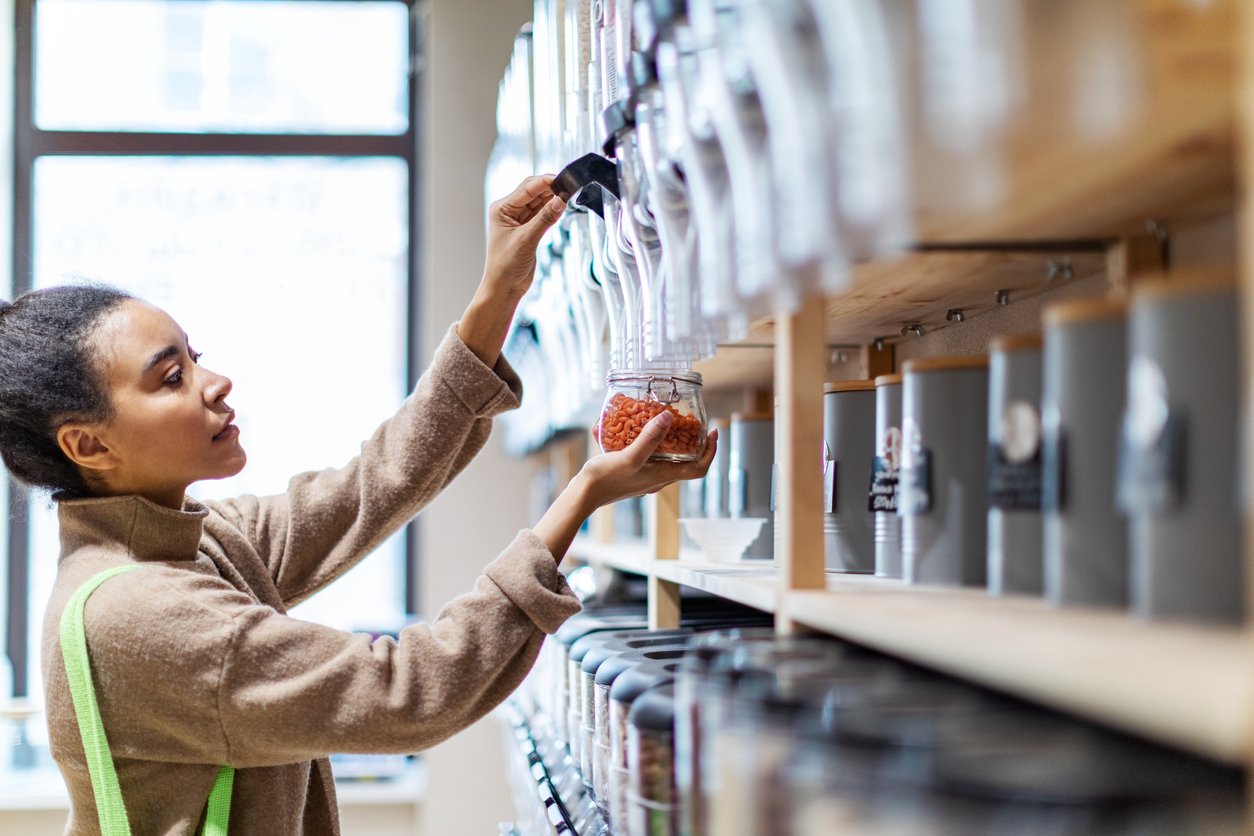 As consumers start to not only care about the content of their products but also what they're being packaged in, getting a head start in exploring the circular economy, introducing bulk-sized products, or even incorporating less packaging material in products can be highly beneficial to brands in the long run.
5. Ethical and transparent farming methods
Similar to the rising trend of more sustainable packaging, consumers are also becoming increasingly more aware of where their products come from and how they are being sourced.
Shoppers are becoming more diligent in their product choices and taking more time to read what's on the packaging – including the ingredients – where it comes from, and whether the label includes terms like "cruelty-free" and "fair-trade."
Technology is also making it easier for consumers to track their food. For example, Open Farm includes a lot code that their customers can scan to trace their bag back to the source and even see when it was packaged. Apps like ShopWell and Yuka also allow customers to scan products in the store to see what is healthier for them.
Over the past few years, there have been more undercover investigations that spotlight animal abuse and food safety issues, particularly in the meat and dairy industry. These exposés have angered the public and are making consumers warier about where they are getting their food from. As a result, food manufacturers will have to move toward more ethical farming methods to maintain a positive reputation with shoppers.
6. Sustainable legislation impacting the food supply chain
Legislation is a powerful tool for sustainable change - it can influence policy and encourage people to make greener choices. In the past few years, more legislation has been enacted to support the environment and directly impact grocery stores, restaurants, and manufacturers.
Single-use plastic regulations in the US consist of bans against single-use plastic straws, expanded polystyrene, and single-use plastic bans. To view where these regulations are currently enacted or under consideration, visit the Footprint Foundation's website.
As of 2011, organic waste bans have begun to be implemented in the U.S., with Connecticut being the first to adopt the ban. These bans require businesses to divert organic waste from landfills and instead send them to be composted, donated, or upcycled for animal feed.
Even if your state is not impacted by these regulations, it's a good idea for businesses to start thinking about the future when these regulations can possibly be applied. For example, restaurants should have a plan in place to for plastic straws and retail stores should have a plan in place in case single-use plastic bans are enacted. For brands and retailers, it's also important to build strong relationships with non-profit organizations or have a solution in place to divert organic waste from landfills with organic waste bans.
---
The future of sustainability in the food industry is looking bright and there are so many different ways for people and businesses to be part of the solution to ensure a sustainable system throughout the entire food supply chain. Even if you don't go all-in on one of these trends, it's a good idea to incorporate some of these trends into your business model, whether it's adopting reusable packaging, including plant-based alternatives, using technology to increase efficiency, or supporting sustainable legislation.
To read about trends in the grocery and food industry, check out Spoiler Alert's latest E-Book:
The State of the Food Supply Chain.