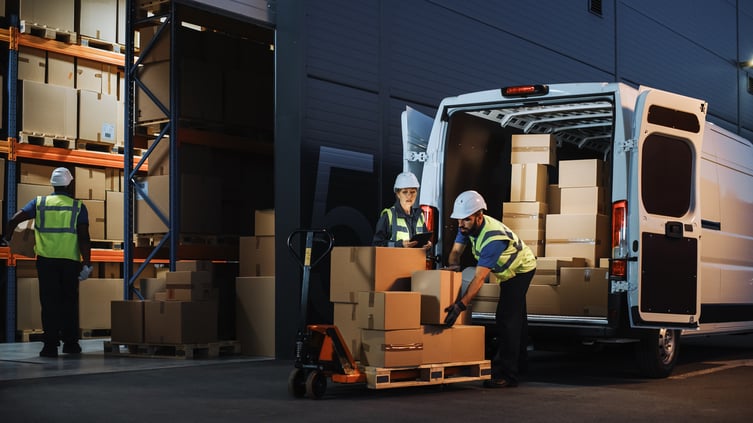 Having a robust liquidation program not only helps reduce waste which benefits the environment, but can also have a significant impact on your company's financials. By moving excess inventory quickly, you'll recover more costs since the product will have a longer shelf life in addition to clearing out critical warehouse space to make room for new inventory.
One of the first steps to creating an effective liquidation program is to build a buyer network tailored to the products you offer. Because some buyers won't be able to purchase all inventory types (ex. the buyer doesn't have a refrigerated section, products are too niche for their customers, etc.), having another buyer to turn to can make sure your product doesn't go to waste.
Different closeout buyers have different capabilities to consider. Let's take a look at the various types of buyers who purchase inventory opportunistically: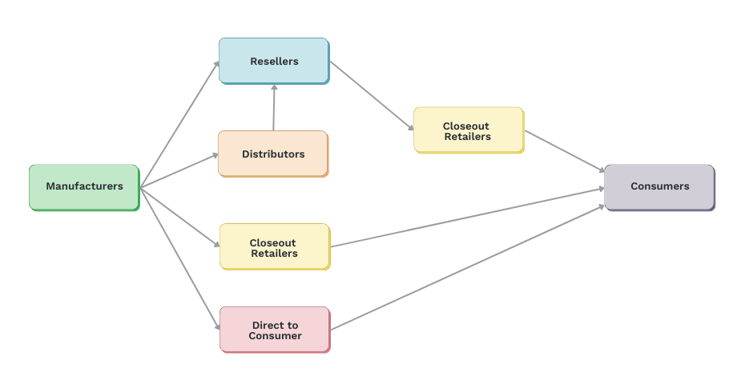 Liquidation resellers
Liquidation resellers will purchase inventory from manufacturers and resell them to another buyer. This is typically done in two different ways - either the reseller will purchase the inventory and take it into their possession before reselling, or the reseller will find buyers for the inventory first before purchasing it from the manufacturer. In this case, the reseller will not take the inventory into their possession, but will instead work with the new buyer and the manufacturer to handle the logistics and shipping of the product.
Choosing to work with liquidation resellers offers many advantages, such as handling the complexities of selling inventory into various individual stores. For manufacturers that must prioritize speed over all other KPIs, some resellers may also be able to make a "take all" offer for an entire lot of closeout inventory, which can reduce administrative burdens.
Liquidation resellers like Lewisco Holdings step in to work with manufacturers using Spoiler Alert to move problematic inventory into their discount retailer customer network.
Lewisco's Co-Presidents, Adam Gibson and Jason Sanders, recently shared the impact Spoiler Alert has had on their business,
"We use Spoiler Alert's platform with many of our large manufacturing partners. It has allowed us to grow with these partners by being offered a streamlined and expanded list of available inventories. Also, the level of item detail provided through the platform allows us to move through the selling process faster."
Lewisco offers turn-key inventory solutions and is always looking to expand its reach.
Closeout retailers
In the world of liquidation, closeout retailers tend to be the most common buyers of excess and slow-moving goods.
Because closeout retailers purchase inventory opportunistically, they can sell the products to their customers at a lower price. Organizations such as Grocery Outlet, Big Lots, and 99 Cents Only are examples of closeout retailers that will purchase truckloads of excess inventory on a regular cadence to sell to their customers.
The type of merchandise in this channel is unpredictable and changes often as it is left over from primary retail channels. It is a common misconception that this type of retailer only purchases overruns. While this is sometimes the case, they also purchase seasonal overstocks and other products purchased directly from manufacturers to complete their low-cost merchandise assortment and maintain product staples.
Working with closeout retailers doesn't only help keep you from disposing of unsold inventory, but it also helps with increasing food accessibility to communities that need it most. You're helping to provide food and products to those that face food or housing insecurity.
One of the biggest benefits of working with closeout retailers directly is that there is more traceability to where your product is going. While product traceability is possible when working with reputable resellers, working with a retailer provides straightforward visibility into which shelves your excess inventory will be appearing on.
DTC closeout retailers
Closeout retailers don't have to be just brick-and-mortar stores - in recent years, more e-commerce businesses, such as Misfits Market, deliver excess grocery inventory directly to the customer's door.
Non-profit organizations
If excess inventory isn't purchased opportunistically, manufacturers can opt to donate this inventory to a non-profit organization, such as a local food bank, or through an organization such as Feeding America. Not only does this ensure your product doesn't go to waste and instead helps feed food-insecure households, but by donating instead of dumping inventory, you'll save on disposal fees, receive tax incentives, and bolster up your ESG efforts.
To learn more about the liquidation industry, check out Spoiler Alert's latest industry report,
Technological Maturity in the Secondary Market.