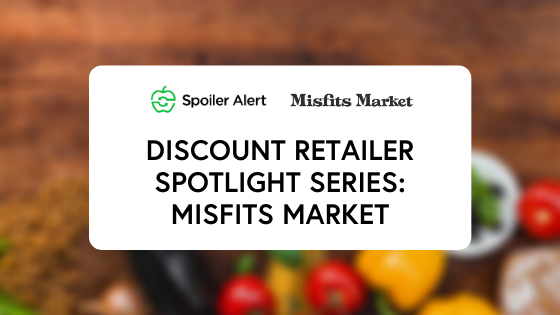 Spoiler Alert's Discount Retailer Spotlight Series shares expert knowledge from seasoned food buyers at discount retailers across the United States. These individuals are critical partners for many of the world's leading food brands, purchasing excess inventory opportunistically and providing affordable groceries and other essentials to millions of Americans each and every day. We're honored to partner with these buyers through the Spoiler Alert platform and are excited to share their stories.
This edition features a discussion with Brandie Miller, Director of Assortment Planning at Misfits Market. As an online marketplace that sources high quality organic produce and surplus grocery items and delivers directly to its customers, Misfits is a leader in the growing e-commerce grocery sector. Their mission is to make delicious, high-quality food affordable and accessible to everyone while tackling inefficiencies in the food system.
SA: Tell us a bit about Misfits Market:
BM: We're building an affordable, full assortment online grocery store that creates access from inefficiency. Misfits Market was started because almost a third of what's grown in the U.S. never gets harvested - often because it doesn't meet the superficial standards of a traditional grocery store. Two years ago, when we launched as a four-person team based in Philadelphia, we were hyper-focused (and still are) on rescuing all these misfits. We take in high-quality organic produce that sometimes looks a little different. Fruits and veggies that are too big, too small, just sort of funny-looking, or simply "surplus."
Today, as a team of 900+, our scope has expanded to include other items you would find in a regular grocery store: cooking supplies, pantry staples, and much more. Similar to how we partner with farmers, we work with food makers to reduce their waste by taking their excess inventory—ranging from surplus to out-of-date packaging to short-dated items.
SA: How did you get interested in food merchandising originally?
I worked for a small ice cream manufacturer that was focused on food service and brought the brand to retail. I got to work on all sides of the business: managing distributors, selling direct to retail, managing brokers, and designing packaging. After that, I moved to a buyer role at Grocery Outlet. I grew their Organic Specialty banner for nine years until the company went public in 2019. At the end of the day, I love working with mission driven food brands that want to do good things and making affordable healthy food more accessible.
SA: What categories of food inventory does Misfits Market purchase opportunistically?
Currently we are focused on Produce and the Grocery (shelf stable categories). In 2021 we plan to keep expanding and offering customers quality products in more of the categories that they expect to find at a traditional grocery store.
Can you describe your typical customer and what motivates them to shop at Misfits Market?
Our customers are primarily intrigued by the prospect of high quality, affordable food delivered to their door, then inspired by our focus on sustainability. They're avid home cooks motivated to eat healthier foods, and they might not always be able to fit the quality items we offer into their budgets if not for Misfits Market. Though many of our customers are in suburban locations with some access to organic produce, it may be prohibitively expensive, or the store may have a limited variety. We also have a significant number of customers who are unable to get to a local grocery store at all, whether they're located in a food desert, immunocompromised, or elderly.
SA: How can Spoiler Alert's platform enhance your ability to effectively work with suppliers and expand your impact further?
The lists from the vendors that use Spoiler Alert are organized and accurate with all the information we need to work a deal quickly. This is instrumental, as products can have a very short shelf life. Having accurate, precise data shortens the negotiation time and is very efficient. Saves everyone time and dollars at the end of the day.
SA: Can you describe the connection between your work and fighting food waste in the supply chain?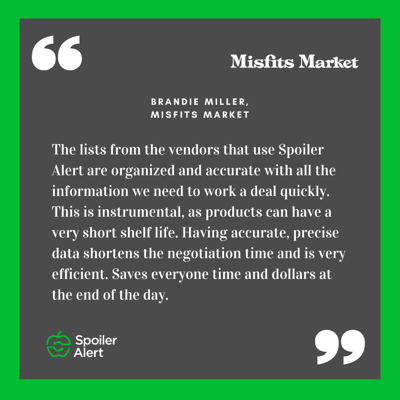 There are so many creative ways to help with food or packaging waste. For example, in the case of excess raw ingredients, we will partner with the brand to run through their excess raw ingredients and produce fresh products in retail ready packaging. We are also able to work with short dated and off specification inventory as well as excess inventory that occurs due to cancelled orders and packaging changes.
To mention some recent specific examples, 88 Acres creates a Cinnamon & Oat bar specifically for JetBlue. We are taking the ends and pieces from their production runs and packing them into a Seed'nola bag, reducing waste and selling a delicious product to our Misfits Market customer.
King Arthur created a 3lb bag of flour as a test and we helped them move the remaining inventory with this packaging, preventing over 5 truckloads of food from going into landfill! We've also helped Bob's Red Mill move through inventory with "old" packaging after they changed their look recently.
SA: How has COVID impacted your role and the importance of food as a category for Misfits Market?
During the pandemic it has become even more apparent that there is a widening gap between socioeconomic status and food access. Not everyone can afford groceries delivered to their doors, yet this virus affects everyone, particularly people who need to avoid shopping in person. Misfits Market is a more essential service than ever because it makes affordable, healthy groceries accessible to everyone in the areas we serve.
SA: Can you describe an ideal relationship with an opportunistic supplier?
We aim to develop deep relationships with many people within a company to hunt for excess, and to collaborate so no doors are closed prematurely. Sometimes it's the warehouse; others it's individuals like the Brand Manager, Internal Sales Manager, Inventory Manager etc. Each person sees a different side of the business and can identify waste within their world!