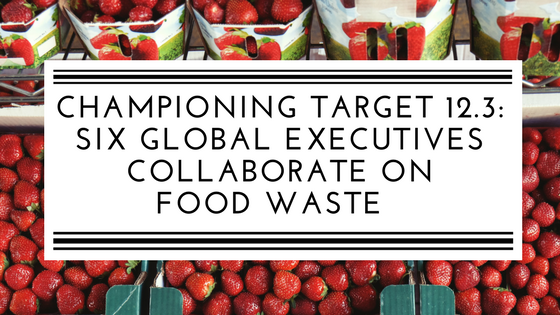 In September 2015, members of the United Nations' General Assembly adopted the Sustainable Development Goals. Embedded in the 'Responsible Consumption and Production' goal is Target 12.3, which calls for a) halving per capita global food waste among retailers and consumers, and b) reducing food losses along production and supply chains, by 2030.
From this target emerged Champions 12.3, a coalition of senior leaders from industry and government capable of impacting food loss and waste (FLW) at scale. The group, led by the Netherlands government and World Resources Institute (WRI), has made four specific commitments:
Meet Target 12.3

and encourage others to take action on FLW;

Lead by example

, like quantifying FLW and implementing solutions;

Showcase the importance of FLW reductions

, including raising awareness about the benefits of taking action (see

The Business Case for Reducing Food Loss and Waste

);

Advocate for improvement of enabling conditions for FLW reduction

, like encouraging efforts to close data gaps that hinder action.
We highlight six major food company executives' commitments to Champions 12.3, as well as details about each company's strategies to combat FLW (full Member List here).
Paul Polman, CEO, Unilever

Collaboration is a cornerstone of Unilever's overarching strategy to combat FLW at scale by creating systemic change in partnership with organizations. "The Champions 12.3 coalition will drive collective action on food loss, waste, and associated greenhouse gas emissions to meet the ambition set out in the SDGs and Paris Agreement in 2015," noted Paul Polman when he committed Unilever to the group.
As one example, the company helped formulate the Consumer Goods Forum's Food Waste Resolution that calls on members to halve food waste in operations by 2025. Unilever also works with groups like the European Federation of Food Banks (FEBA), The Global Foodbanking Network (GFN), and Feeding America to support strengthened food banking infrastructure throughout Europe and the United States, and places a focus on encouraging employees to volunteer at regional food banks.
Dave Lewis, Group Chief Executive, Tesco
The UK's Tesco continues to be a leader among corporates committed to food waste action, most recently stating that no food fit for human consumption will be wasted from the chain's retail outlets by the end of 2017. The company strives to mitigate wasted food within its own operations; collaborate with supply chain partners to reduce waste upstream; and educate consumers how to reduce at-home food waste. In addition, Tesco was the first grocer in the United Kingdom to publicly disclose food waste generation data.
Dave Lewis has been instrumental in the development and launch of the Champions 12.3 coalition, currently serving as Chair of the group. In the inaugural press release, he states, "This is an opportunity for businesses to work together and make a real difference to Target 12.3."
Campbell Soup Company has been tracking food waste generated at its facilities for over ten years and utilizes the EPA's Food Recovery Hierarchy to guide reduction activities. The company recently started using the FLW Standard to more accurately quantify FLW generation and establish a baseline to measure progress toward its commitments.
One of Campbell's innovative strategies to reduce wasted food is Just Peachy Salsa, a shelf-stable peach salsa that Campbell's produces using off-grade peaches that would otherwise be wasted, then donates all proceeds from sales to a regional food bank. "Food waste is one of the key challenges of our team," notes Denise Morrison in a statement. "As a company committed to our purpose, Real food that matters for life's moments, we realize we can play an important role in finding a solution."
John Bryant, Chairman of the Board and CEO, Kellogg Company
"As a global food company, we have a significant role to play in helping end hunger, achieving food security, improving nutrition, and promoting sustainable agriculture," John Bryant stated in April 2016. "In joining Champions 12.3, we are further demonstrating our support of the Sustainable Development Goals, and our commitment to helping reduce food waste 50 percent by 2030." As the statement suggests, Kellogg's initiatives to tackle food loss and waste take on a global perspective, starting at the farm-level.
Kellogg works with partners throughout the world to develop and implement post-harvest loss reduction practices on farms that produce ingredients for the manufacturer. The company is committed to reducing food waste within its own operations, clearing stating its position and recently piloting the FLW Standard for quantifying and reporting out FLW. In 2013, Kellogg launched its Breakfast for Better Days program, which focuses on enriching the lives of food insecure populations, especially children, by donating food products and supporting food recovery organizations.
Paul Bulcke, Chairman and Member of the Board of Directors, Nestl

é
As one of the world's most recognized consumer brands, Nestlé is a global partner promoting collaborative action to reduce food loss and waste. The company was active in the development and launch of the FLW Standard, piloting the tool in its dairy supply chain in Pakistan. In addition, Nestlé's 'Zero Food Wastage Taskforce' assesses and promotes actions to reduce food loss and waste throughout the value chain, supporting the company-wide commitment to send zero waste to disposal by 2020.
"We are proud to be part of Champions 12.3," states Paul Bulcke. "I am convinced that by working together, we can develop effective solutions to reduce food loss and waste, to help the world meet Sustainable Development Goal 12.3."
Michel Landel, CEO and Chairman of the Executive Committee, Sodexo Group
When committing Sodexo Group to Champions 12.3, Michel Landel stated, "Our common challenge is to minimize waste throughout the value chain… an urgent mission given the high economic, social and environmental cost of waste, and one which resonates strongly with Sodexo's commitment to improve quality of life in the communities we serve."
Our most recent blog highlights Sodexo USA's strategies for reducing food loss and waste.
Collaboration is required
There is a clear recognition in the statements above that to halve food loss and waste by 2030, collaboration is required. Coming from the global leaders on food waste action, this is a lesson that should not be ignored. It is our belief that food waste stems - in part - from various breakdowns in a food system defined by many actors and moving parts. Innovations and solutions must consequently be holistic and address the system as a whole.