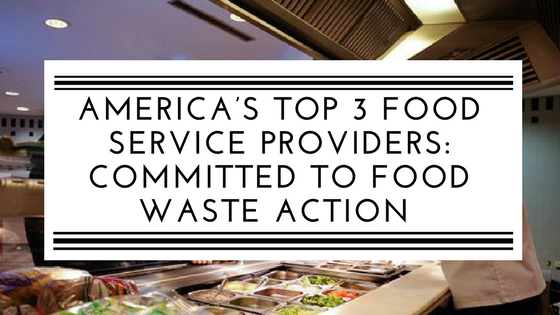 According to Food Management's Top 50 Contract Management Companies 2017, the three highest-grossing U.S. food service providers are Compass Group, Aramark, and Sodexo. These 3 companies collectively prepare and serve over 6 billion meals each year through conference centers, institutions, hospitals, stadiums, and countless other facilities. But size isn't the only thing these three corporates have in common. Each has also made transparent and ambitious commitments to reducing food waste.
Increasing awareness of America's food waste problem has jump started a flurry of reduction commitments from major food companies (for a quick tutorial on food waste in the U.S., check out our Beginner's Guide to Food Waste). Food service providers are uniquely positioned to influence behavior through purchasing decisions, kitchen operations, and consumer education. As food waste has continued to receive national and international attention, these three food service providers have stood out as leaders on the issue.

1. Compass group

Earlier this year, Compass Group USA announced a commitment to reduce 25 percent of food waste by 2020 compared to a 2016 baseline. Bon Appétit Management Company (BAMCO), a Compass Group USA business unit that operates 650 cafés in 33 U.S. states, has taken even further steps to reduce wasted food within operations.
As part of its Low Carbon Lifestyle program, BAMCO is committed to prioritizing waste reduction according to the EPA Food Recovery Hierarchy. This includes requiring cafés to save cosmetically challenged fruits and vegetables from going to waste on farms through their participation in the internal "Imperfectly Delicious Produce" program, as well as committing to have at least 80 percent of accounts 'Food Recovery Verified' by 2018. This means they regularly donate excess, wholesome food to people in need and are verified by an outside third party.
"At Bon Appétit, we hate waste with a passion and we do everything in our power to stop it from happening in the first place," Claire Cummings, the company's Waste Programs Manager, tells us. "We let landfills be our last resort by ensuring that our cafés are actively preventing waste at the source, donating leftovers to local hunger relief organizations, and diverting waste from landfills. We take a holistic approach to sustainable waste management."
In addition, Bon Appétit was named a 2030 Food Loss and Waste Champion by the USDA and EPA in 2016, committing the company to halving food loss and waste by 2030.

As part of its Imperfectly Delicious Produce program, BAMCO utilizes broccoli fines (pictured above) that are left over when larger broccoli heads are broken into retail-sized bags. Image courtesy of BAMCO.
2. Aramark
Similar to Bon Appétit, Aramark made the commitment to reduce food loss and waste by 50 percent by 2030, securing a position on the 2030 Food Loss and Waste Champions list.
Aramark, which serves more than two billion meals every year, focuses its food waste reduction strategies along two verticals: source reduction and food donations. Source reduction entails extensive employee training on menu and ingredient management, as well as tracking waste via an online portal. In December 2016, the company committed to installing food waste tracking software at its 500 highest volume locations over the course of 2017, with plans to expand more broadly over time. For food that is still safe and edible but no longer able to be served, Aramark works with partners to facilitate donation to certified food assistance agencies.

Aramark's food waste minimization program starts in the kitchen. Image courtesy of Aramark.

3. sodexo
In August 2016, Sodexo USA - which services 13,000 client sites in North America - committed to sending 'zero food waste to landfills' by 2025. The commitment and the company's engagement with coalitions like Champions 12.3 earned it a spot on the 2030 Food Loss and Waste Champions list.
To accomplish the goal, Sodexo is following guidance from ReFED's A Roadmap to Reduce U.S. Food Waste by 20 Percent, with a focus on raising awareness, improving processes, measuring impact, and sharing expertise. In addition to deploying waste tracking and analytics technology at its sites, the company is also making good on its promise to share knowledge. Just in the last six months, Sodexo staff have written on topics like engaging supply chain actors around food waste reduction; educating customers on the importance of reducing food waste to enable further reductions; and how to cut food waste in schools.
"Food waste is a nexus issue for us, so addressing the problem impacts many other corporate social responsibility and sustainability metrics we use to measure our performance," explains Nell Fry, Senior Manager of Sustainability Field Support at Sodexo. "By focusing on best-practice sharing and participating in industry groups like the Food Waste Reduction Alliance, we can make an impact up and down the supply chain. We educate our distributors about issues that are important to us and empower our site operators with information they can use to craft creative solutions to problems like food waste."


Why is this important?
Compass, Aramark, and Sodexo have made their positions on food waste clear. As industry leaders, these represent important trends that peer businesses should take notice of.
But, it is also Compass Group, Aramark, and Sodexo's food distributors and suppliers that should stay in tune with their customers' sustainability commitments. To be proactive, it may be time to look at how internal positions and initiatives on topics like food recovery and waste diversion can actually serve as a competitive advantage when it comes to customer engagement and retention.
Spoiler Alert's enterprise platform allows food manufacturers, distributors, and retailers to get a better handle on food recovery and waste diversion efforts. Click here to learn more.