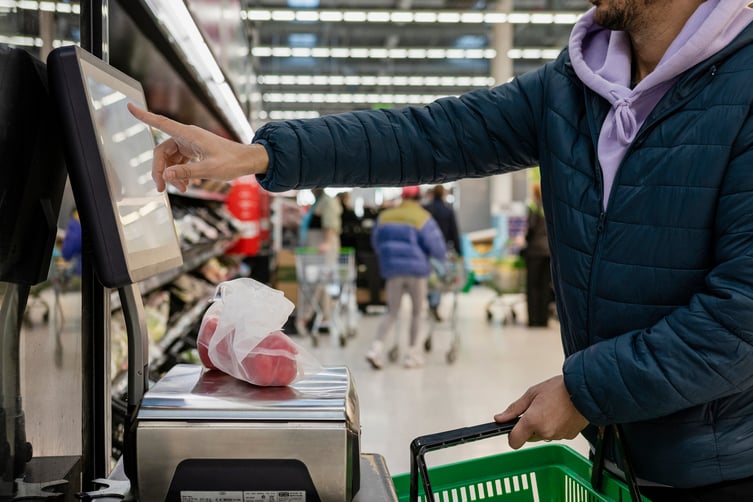 With inflation, the pandemic, supply chain shortages, the Russian invasion of Ukraine, and more impacting the food supply chain, it's critical to understand what is trending in the industry in order to be proactive instead of reactive to current events.
The grocery and food industry is changing on almost every front and these five trends indicate the general scope of that change. Let's look at some of the trends we find most impactful to businesses today.
1. Inflation driving up food prices
Lately, it's been hard not to notice a pretty drastic increase in our grocery bills. A big factor in this is inflation - as of April 2022, inflation increased by 8.3% compared to the previous year. Food inflation is growing even more quickly at 9.4% at the end of April, the highest rate since April of 1981.
As inflation continues to rise, this spring grocery sales grew by 6.4% in dollars but declined 4.1% in units, illustrating that people are spending more at the grocery store but coming home with less food.
Some food categories are experiencing higher costs than others. For instance, meat and dairy products, oils and fats, and produce are some of the categories that are expected to continue to rise throughout the year.
Ongoing food shortages have an impact on grocery prices as well. The war between Russia and Ukraine is exacerbating the shortages, as both countries are important grain exporters, accounting for 29% of the worldwide wheat export market.
In an effort to combat increasing inflation prices and shortages, many companies are turning to use shrinkflation tactics. Shrinkflation, also known as packaging downsizing, includes reducing the size or quantity of products' packaging or opting for cheaper ingredients while the price of the product stays the same or increases.
Across the board, prices are trending higher and are not likely to get any better soon.
2. The rise of discount stores
The discount store grocery market has grown at a faster rate than traditional grocery stores and will continue to do so.
As 64% of Americans are living paycheck to paycheck amid the pandemic recovery and inflation, the impact of increasing food prices is driving consumers to explore discount stores instead of going to their regular grocery stores.
Retailers are responding to the needs of Americans during this uncertain time. In fact, about ⅓ of all US storefronts to open in 2021 were dollar stores.
To further accommodate discount shoppers and reduce food deserts, many discount retailers are implementing chilled sections to provide fresh produce, meat, and dairy. A study by the University of Nevada even showed that the quality of produce in discount retail stores matched the quality of produce in traditional stores, at a more affordable cost, 80% of the time.
Regardless of how well you're doing, everyone likes to save a few bucks. Stores such as Costco, Trader Joe's, and Walmart consistently top lists of shoppers' favorite stores. Aldi has even added 1,700 stores through 2017 and is on track to increase that amount to 2,500 stores nationwide by the end of this year.
3. Private label products increasing in popularity
Private label products are products that retailers source from a third party to produce a product line and sell it under its own brand name. With names like Walmart's Great Value, Costco's Kirkland, and Target's Good & Gather, grocers' have been elevating the look and quality of their own brands, gaining their own reputation for quality, and now account for a growing share of sales at both supermarkets and big-box discounters. In March 2022, private label brands grew by 8.3% compared to national brands, which grew by 4.5% in dollar sales compared to the previous year.

Private label brands are often cheaper than brand names. With growing concerns over food price increases, many consumers are opting for the private label product over their go-to branded products, especially with grocery categories experiencing the highest inflation such as

meat and dairy

. Plus, they can be just as high in quality. Sometimes, it can be difficult to even tell the difference between a private label product and its branded counterpart.
4. The future of e-commerce
The start of the pandemic marked a dramatic increase in e-commerce and grocery delivery as people became warier of going to busy grocery stores, where their likelihood of getting sick increases. Additionally, more people are using grocery delivery services because they offer convenience and flexibility over traditional grocery stores that are often crowded, especially during peak hours such as the weekend or after work.
The grocery industry is rapidly evolving, with a focus on increasing consumer delivery alternatives. Consumers want a variety of delivery options, including home delivery or store pickup, curbside collection, and drive-thru pickup. This growth is particularly evident amongst younger generations who have grown used to placing orders with an instant click of the button on their devices.
Americans are now spending more than twice as much on online groceries as they were before the pandemic, averaging $6.7 billion per month versus $3.1 billion. Even in the face of inflation, Americans continue to rely on e-commerce, which is expected to account for 20% of the food market by 2026.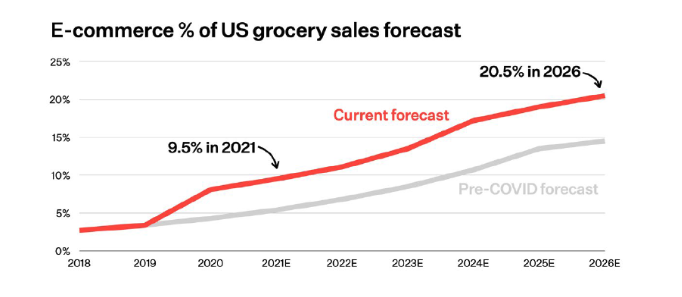 The opportunity for retailers to reduce costs can be a win-win for them; consumers get the convenience of ordering groceries online, and retailers can save money on store labor.
However, not all consumers are in favor of buying groceries online. In fact, some even consider it a waste of time and money because they don't want to pay extra fees or wait longer than usual to receive their groceries.
In early March, retailers experienced a decrease in foot traffic in correlation to rising fuel prices but bounced back slightly a week afterward. As fuel prices continue to rise with inflation, it's difficult to determine if consumers would prefer to pay for their own gas to drive to the store or pay the delivery fees that have been increasing to combat the fuel price increases.
5. The role of technology in improving supply chain efficiency
Technology is becoming increasingly more prevalent in all aspects of the grocery and food supply chain. AI and machine learning are being introduced to manage inventory even in the restaurant sector, and companies like Apeel and Mori use technology to keep produce fresh longer at the farming and manufacturing stage.
Technology has been integrated into stores to improve customer experience - think about how common self-checkout systems and mobile payments are now.
Amazon launched their Amazon Go stores with their Just Walk Out Technology, allowing for a checkout-free shopping experience that detects which products are being taken from or put back on the shelves via a virtual cart. Whole Foods, also owned by Amazon, is piloting the same technology.
Other grocery stores, such as Giant, are implementing Flashfood, an app that allows shoppers to purchase discounted groceries that would otherwise have gone to waste.
Companies are even experimenting with drones and robots to deliver groceries and products to homes more efficiently. This could also mean that products can be delivered directly from the manufacturer or producer, cutting out extra steps and reducing overall waste and fuel emissions.
Additional trends to look out for
The grocery and food industry is changing rapidly, which means it's important to stay ahead of as many trends as possible to continue being successful in the coming years. The list of trends doesn't just stop here - rising trends in electronic and SNAP payments, consolidation among suppliers and retailers, and restaurant operators expanding into grocery are all important trends to consider as well.
Being aware of trends in the grocery industry will help you be better prepared for potential challenges or opportunities in 2022.
We hope these insights into emerging issues will help you prepare for what's next!
To read more about trends in the grocery and food industry, check out Spoiler Alert's latest E-Book:
The State of the Food Supply Chain.