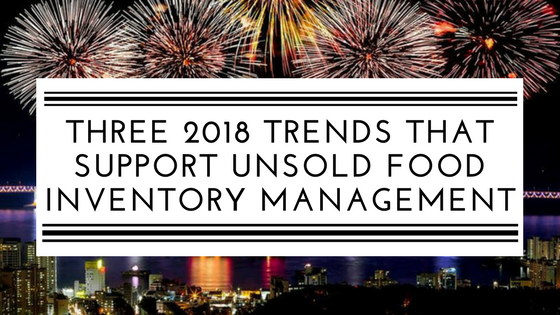 With 2017 in the rearview, many of us are focused on driving progress in the year ahead. At Spoiler Alert, this means continuing to educate food manufacturers, wholesale distributors, and grocery retailers on how improving the management of unsold food inventory can and will generate financial and operational benefits for their business. Therefore, we were thrilled to see 2018 trend predictions from food and waste industry associations, experts, and publications that align with our work.
Below, we analyze three 2018 trend predictions that create opportunities for major food businesses to reduce waste and recover value from unsold inventory.
1. Focus on food waste and 'root-to-stem'
Food Dive:

6 major food trends to watch in 2018

This list from the well-known food industry news source includes transprency (#2) and sustainability (#5). On sustainability, the author notes, "Consumers are taking a more active role in the battle against food waste, a mindset that is leading shoppers to try to use all parts of the plant or animal, rather than cherry-picking parts and throwing the rest away."

Specialty Foods Association: Trendspotters' Top Trends for 2018
The organization that represents over 3,000 food artisans, purveyors, and associated businesses includes 'upcycled foods' (i.e., products made from ingredients that would otherwise be discarded) and 'root-to-stem' cooking (i.e., utilizing the entire fruit or vegetable including stems) on its list of 2018 food trends.

National Restaurant Association:

'What's Hot' in 2018 - Top 10 Concept Trends

According to a survey of 700 professional chefs, the top 10 culinary concept trends for 2018 include food waste reduction (#4) and environmental sustainability (#6).

International Food Information Council Foundation: Food Insights
IFIC is dedicated to effectively communicating science-based information on health, nutrition, and food safety. The organization's 2018 predictions included a "Waste Not, Want Not" section that states, "...

food waste is both an

educational challenge

and opportunity among consumers that more players in the food system appear poised to embrace, with food purveyors stepping up their own commitments to address the problem."
Spoiler Alert Takeaway:
The spike in consumer awareness of the food waste issue and demand for action creates opportunities for food businesses to get creative and 'think outside the box'. At the manufacturing level, companies can look for opportunities to upcycle organic byproducts or partner with other organizations that can use the material as an input for their own production needs. Wholesale distributors can incorporate imperfect produce or upcycled foods into their product mix, or partner with celebrity chefs who champion 'root-to-stem' cooking to share recipes with restaurant customers. And at the retail level, companies can leverage their unique supply chain position to promote food waste reduction upstream through suppliers, as well as downstream through education-focused campaigns targeting customers.
Regardless, it will be important for businesses to be cognizant of the amount of waste generated internally and have a strategy for mitigating the problem.
2. Emphasis on mindfulness and transparency
Institute for Food Technologists: Food Technology
Editors at Food Technology, published by the Institute for Food Technologists, each made a trend prediction for 2018. 'Dispelling distrust' was included, emphasizing that, "

Ultimately, building trust among consumers will continue to be a driving force in the health and wellness market."

Phil Lempert, Supermarket Guru: 10 food trends that will shape 2018
One of America's leading food and consumer-trend analysts, Phil Lempert, a.k.a. the 'Supermarket Guru', cited Mindfulness as his No. 1 2018 trend prediction. He writes, "

Mindfulness reflects a new consumer attitude, mostly led by millennials, to truly understand everything possible about a particular food or beverage and then support the company...by aligning with its values and supporting it with purchases."

Innova Market Insights: Top five trends for 2018
A world leading provider of knowledge solutions for the food and beverage industries, the company's top 2018 trend prediction is "mindful choices", noting, "

Consumers are more conscious than ever about making responsible food choices, and increasingly want to know what is in their food and how it is produced."
Spoiler Alert Takeaway:
It makes sense that as more consumers demand food transparency, ranging from how food is produced to the ingredients it contains, more consumers will begin making mindful choices about the products that they purchase. The industry is responding in a number of ways, ranging from a focus on 'smart food', to the rise of 'clean processing' techniques like fermentation, to major commitments focused on environmental issues. Corporate responsibility is no longer a 'nice to have', but a competitive advantage for food companies. Further, studies have shown that employee retention, productivity, and engagement all go up when companies have strong corporate sustainability practices, something that is top-of-mind for food businesses eager to attract and retain top talent.
At Spoiler Alert, we emphasize how improving the management of unsold inventory can help companies improve operational efficiency, reduce waste and environmental impact, and enhance community engagement. As food businesses consider strategies to improve transparency, unsold food inventory management is a relevant opportunity to evaluate.
3. Role of technology
Spoiler Alert Takeaway:
As a tech company touching both the food and waste sectors, we love to see major industry publications predict an increasing role for technology in 2018. For us, it is particularly exciting to see an emphasis on how 'transformative tech' will improve food production and help tackle climate change. Spoiler Alert's solution is built to help food manufacturers, wholesale distributors, and grocery retailers reduce operational impact and improve environmental stewardship. We would not be able to deliver our services without software as a backbone. In addition, new research from McKinsey & Company shows that advances in sustainability-related technologies strongly influence a company's decisions to increase sustainability commitments — another exhibit of the positive role technology will play into the future.
We are also enthusiastic that three organics recycling technologies were included as top waste tech trends for 2018. At Spoiler Alert, we believe a holistic food waste management strategy is the most effective and impactful solution — but this requires that generators have access to alternative processing outlets that can accept organic waste. In many parts of the country, there is limited access to organics recycling facilities (e.g., composting or anaerobic digestion), which in turn limits the ability to holistically manage waste. Expanding organics recycling infrastructure will only increase the amount of businesses that can effectively manage unsold inventory and organic byproducts.
The year ahead...
Although it is far too early to know if any of these trend predictions will come to fruition, the fact that so many experts are talking about topics like food waste, transparency, and technology is a good sign for businesses that are considering solutions to improve the management of unsold food inventory.
Whether it is a current priority or not, members of the Spoiler Alert team are standing by to help food businesses discover what financial and operational benefits can be captured through better management of unsold inventory.