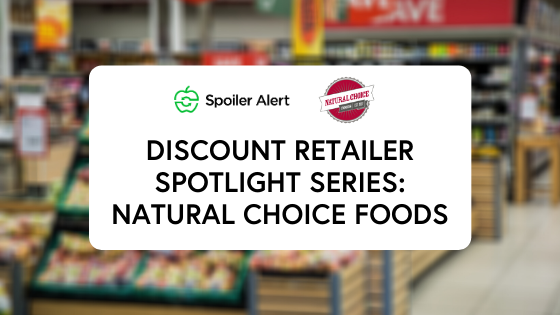 Spoiler Alert's Discount Retailer Spotlight Series shares expert knowledge from seasoned food buyers at discount retailers across the United States. These individuals are critical partners for many of the world's leading food brands, purchasing excess inventory opportunistically and providing affordable groceries and other essentials to millions of Americans each and every day.
We're honored to partner with these buyers through the Spoiler Alert platform and are excited to share their stories.
This edition features a discussion with Paige Klaver, Lead Buyer at Natural Choice Foods (NCF). Since 1997, NCF has offered overstock and distressed food inventory at their retail locations in West Michigan and through their wholesale business. While their primary purchasing focus is on retail-ready inventory from well-known food brands, their ability to purchase private label and food service products (which they repackage in their USDA-certified facility) uniquely positions them to purchase inventory that many discount retailers can't consider.
SA: Tell us a bit about Natural Choice Foods.
PK: Natural Choice Foods operates a brick and mortar discount grocery store chain called Daily Deals, as well as a wholesale division. Just recently, we launched a repack facility, where we work with excess and off-spec private label inventory.
SA: What categories of food inventory does NCF purchase opportunistically?
PK: We will look at and buy just about everything, from retail snacks to meat products. We can also purchase food service products and repackage them into smaller, more customer-friendly sizes in our repack facility.
SA: How did you get interested in food merchandising originally?
PK: I'm a self professed foodie. Having worked in the service industry earlier in my career, I saw food waste up close, and it is a personal mission for me to reduce food waste as much as possible. When I joined NCF, I had no idea how much excess inventory there was in the food manufacturing industry, and NCF has been successful in taking this product and providing it to communities that really need discount groceries.
SA: Can you tell me about a time when you took a risk on a new product and it went better than you expected?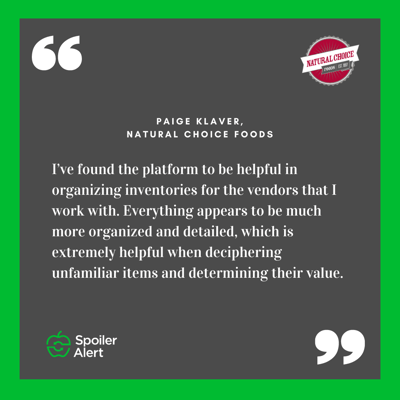 Opportunity buying is a treasure hunt. I have no idea what we may buy on a given day, and I may run into something new that I have very little information about and I'll buy three truckloads to test it out. About a year ago, we took a bet on eight truckloads of fruit punch even though we weren't sure that we would be able to move through large quantities of a product that was new to us and our customers. We were pleasantly surprised that it worked out!
SA: What do you enjoy most about your role and opportunistic buying?
PK: It's different week in and week out, and I get to see new stuff all the time and build great relationships with suppliers. It is rewarding to be able to provide affordable groceries to communities that really need them and to lessen the impact of food waste.
SA: How has Spoiler Alert impacted your purchasing efforts?
PK: I've found the platform to be helpful in organizing inventories for the vendors that I work with. Everything appears to be much more organized and detailed, which is extremely helpful when deciphering unfamiliar items and determining their value.
SA: Can you describe an ideal relationship with an opportunistic supplier?
PK: An ideal relationship involves open and regular communication with the vendor. I want to be their "easy button" and the first person they think of when they have excess inventory. The responsibility goes both ways: large manufacturers are sensitive about their brands, and we present options like tracking where their product goes or transforming the product in our repack facility for brand protection. We leave it up to our vendors as to where their product ends up, and ultimately, we do what we say we're going to do.