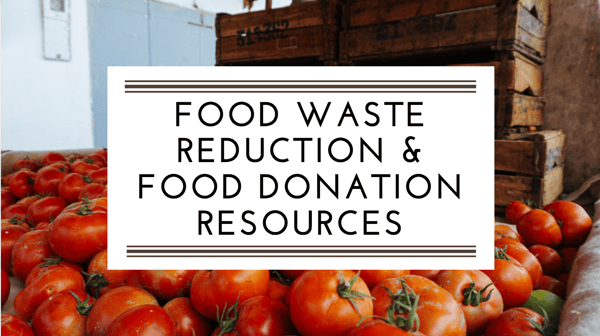 Currently five states have food waste bans, and with four of the five states located in New England (Massachusetts, Rhode Island, Connecticut, and Vermont), the region is at the forefront of innovative legislation.
Despite having the highest concentration of food waste bans in the U.S., there's still a lot of work to be done in New England in terms of education about federal enhanced tax deductions and liability protection.
Resources for New England Food Businesses
Are you an operations or sustainability professional working for a New England food business and looking to understand how this impacts you and your organization? You can find state-specific information on best practices for food donation, legal information on your state's waste ban, how to find local food banks and rescue programs, and toolkits on managing organic waste and composting.
Read More: Cities Working Towards Zero Waste
Connecticut

CT DEEP Food Waste Reduction and Recovery.

A

comprehensive resource

for Connecticut food businesses, including information about local food banks and rescue programs, toolkits, case studies, webinars, and EPA resources.
Harvard Food Law & Policy Clinic Legal Fact Sheets for Connecticut.

Similar to the legal fact sheets developed for Massachusetts, HFLPC has also created documentation specific to Connecticut State Law. See below:
Read more: Decreasing Wasted Food in Connecticut (Presentation)
Maine

Food Resource Packet.

A guide to donations

from the Good Shepherd Food Bank, which gives information about food that's most needed, liability protection, and benefits of donating food.
Natural Resources Council of Maine.

For an overview of the Food Recovery Hierarchy and a list of Maine-based gleaning networks and food rescue organizations, visit the

NRCM's page on food waste

.
Guide to Recovering and Composting Organics in Maine.

From the Maine Department of Environmental Protection, learn about four common

composting systems used in Maine

, including illustrations of compost sites and a troubleshooting table.
Read more: Maine Congresswoman Chellie Pingree Introduces Food Date Labeling Act
Massachusetts

Harvard Food Law & Policy Clinic Legal Fact Sheets for Massachusetts.

The purpose of

these legal guides

is to answer some of the most common legal questions raised by stakeholders regarding food donation and food recovery. Find fact sheets on date labeling, tax incentives, and liability protection.
Read more: Mapping the Largest Sources of Food Waste in Massachusetts
New Hampshire


Best Management Practices for NH Solid Waste Facilities: Food Waste Composting.

From NH's Department of Environmental Services,

this resource

provides composting terminology and definitions, plus tips, problems & solutions, and visuals to guide your composting efforts.
NH Food Alliance.

This statewide collaboration working towards improving New Hampshire's food system was developed out of The Sustainability Institute at the University of New Hampshire.

Their resources page

includes an annual gleaning report, a commercial kitchen feasibility study, information about local food distribution, and NH's Roadmap to End Childhood Hunger.
Read more: NH Food Bank To Launch Food Processing Plant
Rhode Island

Food Waste Recycling Requirements.

In June 2014, Rhode Island passed a food waste ban to take effect on January 1, 2016.

Rhode Island's food waste ban

applies only to organic waste producing institutions generating more than two tons per week. Take a look at the requirements if you fall into one of the following categories: commercial wholesaler or distributors, industrial food manufacturers or processors, supermarkets, resorts or conference centers, banquet halls, restaurants, educational or religious institutions, research institutions, military installations, prison corporations, hospitals or other medical care institutions, and casinos.
Harvard Food Law & Policy Clinic Legal Fact Sheets for Rhode Island.

Similar to the legal fact sheets developed for Massachusetts and Connecticut, HFLPC has also created documentation specific to Rhode Island. See below:
Read more: RI's Food Plan to Address Compost and Access
Vermont

Feed the People — Increase in Food Rescued in Vermont (Webinar).

Through innovative partnerships and collaborative projects

Vermont has seen a 30% increase in food rescue

over the past year with 2016 estimates expected to be even higher. Watch the Sustainable Materials Management (SMM) Web Academy Webinar from the EPA for details.
Read more: Universal Recycling Law Boosts Fresh Food Donations
General Resources
Read more: New England Institutions Recognized for Diverting Food Waste