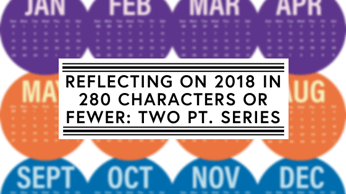 Last week, we used our Tweets to recap some of the most important food trends and industry news from the first half of 2018. Here, we continue our reflection with top headlines from July through November.

July
"...the national average cost per ton of landfilled waste in 2017 was $50.30/ton, which is forecast to rise to $51.19/ton by end of 2018 and projected to climb even higher through 2021." https://t.co/ykilMQqQFH pic.twitter.com/MQOA5LoEmC

— Spoiler Alert (@SpoilerAlert) July 2, 2018
Moreover, industry bottlenecks threaten to significantly raise the cost of shipping waste from transfer stations to the landfill. Due to increased online shopping and other factors, there is a national shortage of qualified commercial truck drivers, which will increase hauling costs in the near term.


Under new "Unpronounceables List" initiative, @USFoods will avoid, remove, or replace more than 80 #ingredients in more than 1,000 of its exclusive brand products to better align with consumer preferences for #clean label foods. https://t.co/mWQkZSup17

— Spoiler Alert (@SpoilerAlert) July 12, 2018
As diners increasingly make less-is-more food choices, we will continue to streamline and simplify our products by removing or replacing certain ingredients with preferred alternatives so what's left is simply good food.


ICYMI: @Danone, @MarsGlobal, @Nestle, + @Unilever to form "The Sustainable Food Policy Alliance" which will lobby in five policy areas: product #transparency, #nutrition, the #environment, food #safety, and a positive #workplace for food and ag workers. https://t.co/u7EdhDhOQH

— Spoiler Alert (@SpoilerAlert) July 16, 2018
Food companies can and should be doing more to lead and drive positive policy action for the people who buy and enjoy the foods and beverages we make, the people who supply them, and the planet on which we all rely.
August
We are incredibly excited to announce that our partner @Sysco has announced its 2025 #CSR goals, which include "Donate 200 million meals to local communities" + "Divert 90 percent of operations and #foodwaste from landfills". https://t.co/oEgpnxbzVP

— Spoiler Alert (@SpoilerAlert) August 14, 2018
Our 2025 goals are a solid foundation that further demonstrate our global sustainability commitment. We are leading our industry with our CSR initiatives and by including specific long-term goals that align with our strategic business priorities, we are living our vision of becoming our customers' most valued and trusted business partner.


"A trucking shortage in the United States has caused #freight prices to soar upwards of 20% and extending the year-over-year gains to an unprecedented 17 straight months." @WSJ @FoodDive https://t.co/nZZ79wbHZc

— Spoiler Alert (@SpoilerAlert) August 15, 2018
The trucking squeeze has hit the food industry particularly hard, adding complications and costs to businesses already adjusting to changing competition and shifting consumer tastes. Food distributor US Foods Holding Corp. , cereal-maker Kellogg Co. , and Fresh Del Monte Produce Inc. all said higher transportation and logistics costs weighed on earnings in the most recent quarter.


"...the overall #customer experience is richer and more seamless than it's ever been." @WholeFoods CEO John Mackey on 1-year anniversary of @Amazon acquisition. https://t.co/5oKvWJkaGu

— Spoiler Alert (@SpoilerAlert) August 30, 2018
Prime members shopping at Whole Foods can receive 10% discounts on certain sale items, and two-hour delivery and grocery pickup are available at some locations. In addition, shoppers can use Amazon's Alexa device to order their groceries by voice.
September
"Improving and expanding the cold chain...along with implementing #digital tools to better match #supply and #demand, track loss and #waste, and allow for dynamic #pricing could save millions in lost food, but adoption of such tools has been slow." https://t.co/bCw7cNQF1t

— Spoiler Alert (@SpoilerAlert) September 5, 2018
Inadequate infrastructure, a dearth of efficiency effort targeted a reducing loss and waste, little collaboration across the value chain and lacking regulations are all to blame for supply chains' slow progress in reducing food waste, according to a new report from Boston Consulting Group (BCG).

New report from @labelinsight + @FMI_ORG: 75% of shoppers say they'll switch to a #brand that provides more in-depth #product information, beyond what's provided on the physical label, indicating increased demand for #transparency. https://t.co/aySJC8G8yc

— Spoiler Alert (@SpoilerAlert) September 24, 2018
Shopper demand for transparency...is fed by the plethora of information available at a consumers' fingertips. Recent research has predicted that the food traceability market will be worth $14 billion by 2019 and the trend has radically changed the way food products are marketed, turning the focus onto the manufacturer's ingredients, processes and backstory instead of advertising alone.


ICYMI: Direct leafy greens #suppliers will need to have one-step-back #traceability on the network by Jan. 31, and end-to-end traceability is expected by Sept. 30, 2019, according to the letter the company sent to suppliers. https://t.co/8jw0TCC0BH

— Spoiler Alert (@SpoilerAlert) September 25, 2018
Walmart customers deserve a more transparent supply chain. We felt the one-step-up and one-step-back model of food traceability was outdated for the 21st century. This is a smart, technology-supported move that will greatly benefit our customers and transform the food system, benefiting all stakeholders.
October
"Knowing where a recalled product was sold during the most dangerous food #recalls can be the difference between a #consumer going to the hospital or not." @US_FDA Commissioner Scott Gottlieb https://t.co/KMy05xWW9I

— Spoiler Alert (@SpoilerAlert) October 1, 2018
They will mostly apply to "serious recalls," those in which eating the food could cause "serious adverse health consequences or death to humans or animals" or in situations in which it's hard to figure out from the food's packaging – or lack thereof – if it's subject to the recall, such as deli cheese, nuts, fresh produce sold individually, rawhide chews or pet treats sold in bulk.


Loss estimates range from 30% to 60% of fall #vegetable crops on #farms in the regions, with some growers experiencing 100% #losses of certain crops, according to the @universityofga report. via @thepacker https://t.co/qM6wjQKSkg

— Spoiler Alert (@SpoilerAlert) October 17, 2018
Due to the widespread nature of the power outages growers may not have functioning coolers or irrigation pumps, which means that secondary losses due to inability to cool and pack harvested product or to irrigate crops in the fields may climb.


ICYMI: "Winning on Reducing Food Waste" agreement's purpose to affirm a "shared commitment to reducing #foodloss #foodwaste" + foster greater coordination and communication among @EPA, @US_FDA, + @USDA https://t.co/umrAiaQ9Cp

— Spoiler Alert (@SpoilerAlert) October 22, 2018
For those concerned by the fact that such large quantities of edible food is still being wasted, leading to potent methane emissions that exacerbate the growing climate crisis, it may be good news to see that this can be a nonpartisan issue.
November
Working with third-party #delivery platforms; offering #pickup solutions; asking associates to make deliveries; and experimenting with autonomous vehicles are all ways #grocers are catering to #online retail. https://t.co/Lk8NkBpMLW

— Spoiler Alert (@SpoilerAlert) November 19, 2018
Analysts say this "see what sticks" approach is the result of an unclear understanding of what consumers want and are willing to pay as retailers try to make pickup and delivery a profitable slice of their business.


"But smaller families, growing guilt over wasteful leftovers, and a preference for free-range fowl have all played roles in the emergence of petite poultry as a holiday dinner centerpiece." https://t.co/86iqqsju69

— Spoiler Alert (@SpoilerAlert) November 20, 2018
Leftovers are part of the fun and tradition of the holidays, and this may be a small step for individuals to feel less wasteful and socially responsible.


High freight, fuel, and labor costs are driving #fooddistributors to find ways to #streamline their businesses. https://t.co/lCGN9tfJhN

— Spoiler Alert (@SpoilerAlert) November 26, 2018
US Foods Holding Corp., Performance Foods Group Co., SpartanNash Co. and Sysco Co. all reported rising costs in their latest quarterly earnings. Operating expenses rose 6% at Sysco, the world's largest food distributor, and 2% at US Foods.
Want more updates?
Did this recap pique your interest? If you want to dig deeper, we have free downloadable Resources on our website, as well as case studies and an ongoing blog where we share learnings in bite-sized pieces. And in case you missed it, don't forget to check out Pt. I of our recap in 280 words or fewer.