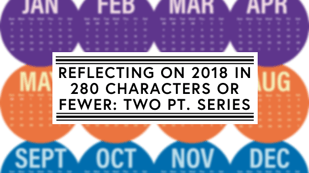 "Automation", "blockchain", "food safety", "freight costs", "transparency" — these are just a few of the topics that created buzz in the food space throughout 2018. And in thinking about a fun (efficient) way to reflect on the year, we turned to Twitter and the headlines that we could fit into 280 characters or fewer.
In this post (and the subsequent one coming next week), we share three of our Tweets from each month of the calendar year. Taken together, they provide a glimpse into what we felt were some of the top stories of the year. Check it out!
January
New research from @DrexelUniv finds strong potential for consumer acceptance of #upcycled foods. https://t.co/hJIItVPzsD

— Spoiler Alert (@SpoilerAlert) January 4, 2018
Converting surplus foods into value-added products will feed people, create opportunities for employment, entrepreneurship and lower the environmental impact of wasted resources.


"Without a sense of purpose, no company, either public or private, can achieve its full potential." @blackrock CEO Larry Fink, via @GreenBiz https://t.co/wVi30WMw4s

— Spoiler Alert (@SpoilerAlert) January 23, 2018
With a long-term horizon, Fink understands that addressing climate change, addressing the future of work and ensuring a diverse board and workforce are all imperatives. Without them, the growth he seeks will not be sustained.


Since a 2017 survey, the percentage of U.S. consumers saying they 'strongly agree' that they are confident of food #safety dropped 14 points, from 47% to 33%. @foodintegrity https://t.co/y4C4Qn1Jmh

— Spoiler Alert (@SpoilerAlert) January 25, 2018
I am often asked why consumers have a certain, often inaccurate, impression of the food system. My response is simple: because farmers and food companies haven't engaged consumers in a way that addresses their underlying concerns.

February
'In order to make it work, it really [requires] a lot of coordination, and the retailer supply chain might not be used to this kind of close coordination.' via @SN_news https://t.co/4PBjvMeuDF

— Spoiler Alert (@SpoilerAlert) February 2, 2018
While retailers embrace the order-to-shelf inventory system because it can save space and the time it takes to organize and manage inventory, "if you run out of stock that potentially is much more damaging than keeping inventory."


.@USDA and @US_FDA sign formal agreement to 'enhance #collaboration and #cooperation' on produce #safety, via @thepacker https://t.co/NR0M98WzkJ

— Spoiler Alert (@SpoilerAlert) February 6, 2018
The agreement calls for the agencies to "enhance their collaboration and cooperation" on produce safety, and follows the FDA's Jan. 18 proposal to update recall processes, giving food company's specific guidelines while addressing concerns public warnings on recalls are too late or contain not enough information.


"We need to let young people know that it's not bad to be a truck driver." @SN_news https://t.co/zL9SzOubfo

— Spoiler Alert (@SpoilerAlert) February 28, 2018
Drivers are aging out — the average truck driver is 49 years old — and high licensing fees and long drives can turn off younger workers. And a new federal mandate requiring most truckers use electronic logging devices hasn't helped.
March
.@Walmart's 'Eden' #technology designed to help associates monitor produce #freshness to prevent #waste; has prevented $86M in waste so far, via @thepacker https://t.co/UBseO5RAZM

— Spoiler Alert (@SpoilerAlert) March 5, 2018
That could mean more efficiently ripening bananas, predicting the shelf life of tomatoes while they're still on the vine, or prioritizing the flow of green grocery items from the back of the store to the shelf.


Investors are pressuring @Amazon to disclose how much food product goes to #waste in operations. https://t.co/xY5yJy7cNY

— Spoiler Alert (@SpoilerAlert) March 5, 2018
Investors have asked the Securities and Exchange Commission to force Amazon to allow shareholders to vote on a proposal asking it to explain its plans to mitigate the environmental impact and cost of wasted food.


New 'Transparency Index' from @FMI_ORG + @foodintegrity identifies six transparency areas that are priorities for consumers, incl. 'impact on environment' w/ focus on #foodwaste https://t.co/Ne6RBL7gEg pic.twitter.com/Y15Ehhj3no

— Spoiler Alert (@SpoilerAlert) March 13, 2018
Grocers who provide easy access to clear information the shopper wants will be rewarded by a shift in consumer perception, moving from being a simple purveyor of food to a trusted ally in the shopper's food experience.
April
Last week, @DanoneWave announced it achieved formal @BCorporation certification as a for-profit committed to positive #social and #environmental goals. https://t.co/ZVgeRM7Mm1

— Spoiler Alert (@SpoilerAlert) April 16, 2018
As more consumers, notably the so-called "Millennial" generation, opt for healthier diets and a more socially responsible way of life, Danone and its rivals such as Nestle (NESN.S) have been seeking to adapt.


"Working with @SpoilerAlert has enabled us to double down on our mission to operate a sustainable business that generates great value for our customers and community." @HelloFresh COO and Managing Director https://t.co/IpXX00R9xz pic.twitter.com/TQlgJZPUn7

— Spoiler Alert (@SpoilerAlert) April 18, 2018
By joining forces with Spoiler Alert, a company that offers a data-driven technology platform, coupled with professional services, we were able to find the best hunger relief organizations for the surplus food coming out of our three US distribution centers (New Jersey, Texas, California).


According to a new report by @HarvardFLPC, only 12 states have formal #regulations for food donations, six of which pertain only to wild game meat. @broademily https://t.co/UtUwdMf2Uy

— Spoiler Alert (@SpoilerAlert) April 26, 2018
Confusion reigns supreme over everything from how to transport donations, to whether food needs to be kept cold, to interpreting best-by dates. Bottom line: Businesses get very little official or consistent guidance and ultimately, are discouraged from donating at all.
May
New data from Waste Business Journal shows the Northeast is most heavily affected by landfill capacity loss, with an annual rate of loss of 5%. https://t.co/I9MYAQ8hul

— Spoiler Alert (@SpoilerAlert) May 9, 2018
Solid Waste Environmental Excellence Protocol (SWEEP) leaders Jim Thompson and Rob Watson cite China's volatile import regulations as a major driver for this decrease in capacity, noting that "the bottom has dropped out of the recycling market."


"As we work through the terms of the services agreement with @Kroger in the coming months, we will be preparing the business for a #transformative relationship which will reshape the food retailing industry in the U.S. for years to come." @Ocado CEO https://t.co/qTlB6oLoVY

— Spoiler Alert (@SpoilerAlert) May 21, 2018
The Kroger deal will see the U.S. chain build up to 20 Ocado-designed warehouses over its first three years—and if Kroger doesn't meet those targets, Ocado gets compensation. Over the long-term, the exclusivity of the deal remains contingent on Kroger ordering enough of Ocado's customer fulfillment centers.


To reduce consumer confusion and #foodwaste, @GroceryMakers is recommending companies start using either "best if used by" (for quality standards) or "use by" (for safety standards). https://t.co/XvzNsJ3cQ8

— Spoiler Alert (@SpoilerAlert) May 22, 2018
Most products will be "best if used by" since the association says most food is safe to use or consume after the date. The remaining few products will read "use by." That's reserved for highly perishable food that might pose a health risk after the date on the label.
June
"It's [cost] thousands and thousands of dollars, it could even run into the millions." @kroger VP of Corporate Food Technology and Regulatory Compliance on recent #romaine lettuce outbreak. https://t.co/TjTb7VJFSS

— Spoiler Alert (@SpoilerAlert) June 2, 2018
Beyond causing more than 150 people to become sick, the E. coli outbreak caused huge losses to growers, a drop in sales for retailers, and disrupted supply chains as restaurants scrambled to find romaine lettuce alternatives — and the impact could linger, according to a report from the Wall Street Journal.


Meal-kit companies are leveraging brick and mortar to connect with new customers, via @Eater. https://t.co/TQ6pSIfGX5

— Spoiler Alert (@SpoilerAlert) June 18, 2018
In other words, meal-kit companies are betting on the notion that getting their products into grocery stores will help them reach a new demographic: one that's willing to bypass everything else, toss a meal kit in their basket, and spend 20 minutes at home learning a little about cooking. But not too much, of course.


The number of shoppers using #online grocery retailers has doubled over the last three years, but "supermarkets remain the key #grocery destination among all channels, hovering around 50% the past few years." https://t.co/FPQRWCqKXr

— Spoiler Alert (@SpoilerAlert) June 28, 2018
But for all of the interest and value that online shopping provides, brick-and-mortar stores are still seen as delivering more strongly across all areas of shopper expectations, in particular freshness, price/value, personal engagement, returns and rewards programs.
Want more updates?
Did this recap pique your interest? If you want to dig deeper, we have free downloadable Resources on our website, as well as case studies and an ongoing blog where we share learnings in bite-sized pieces. Also, be sure to check back next week for Pt. II of our roundup in 280 characters or fewer.