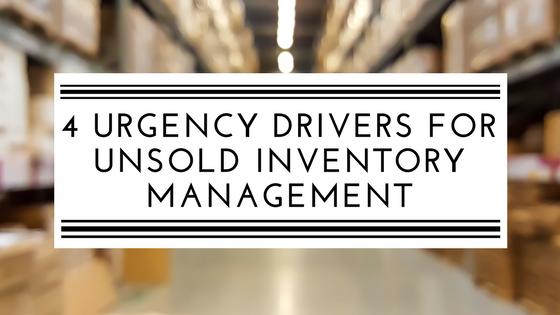 There is a common expression — if it ain't broke, don't fix it. When applied in business, the phrase can be used to justify maintaining the status quo and controlling new spending. Why invest in change if you don't have to?
But this mantra is misleading when it inhibits the ability to identify and appreciate opportunities that improved processes can create for a business. For food manufacturers, wholesale distributors, and grocery retailers, a prime example comes from how unsold inventory is managed.
When unsold inventory and organic waste streams are managed effectively, food businesses can improve operational efficiency, reduce shrink and waste disposal fees, and enhance corporate image. And recent regulatory, customer, and technology trends have made these opportunities even more relevant. Here are four reasons to prioritize unsold inventory management today.
1. Enhanced tax deductions
For many food businesses, donation is a key tactic of a holistic unsold inventory management strategy. Well operated food donation programs help companies reduce waste disposal fees, differentiate brand, improve employee engagement, and positively impact regional communities. Since 2015, companies that donate food to qualified 501(c)3 nonprofits are also eligible to claim enhanced tax deductions, equal to the standard cost reduction plus 50 percent of the product's gross margin. The financial benefits associated with the donation of surplus can actually be greater than the potential revenue resulting from a sale at discount.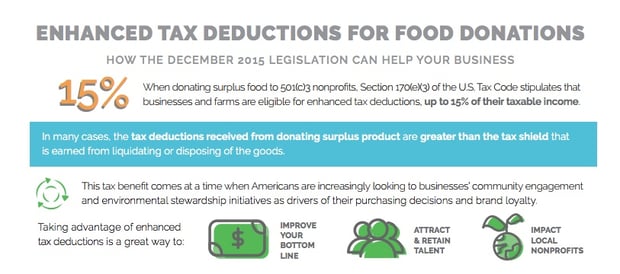 Download this infographic for information on claiming enhanced tax deductions from food donation.
Food companies will cite reporting and documentation as barriers for claiming enhanced tax deductions, since paperwork and documents are often housed in separate departments. Making this process more efficient has been a focus of solution providers, including Spoiler Alert. If a company is donating but not taking advantage of deductions, a change might be in order!
2. Regulatory changes
State and municipal governments across the country are taking action against organic waste, both to achieve zero waste commitments and combat increasing landfill disposal fees. California legislators recently passed two new laws that help facilitate food donation, AB 1219 and AB 954. These rules are designed to support companies that will be subject to forthcoming legislation requiring food recovery and organics diversion. In New York City, the Department of Sanitation (DSNY) is actively working to expand its already successful food waste disposal ban — and the list goes on.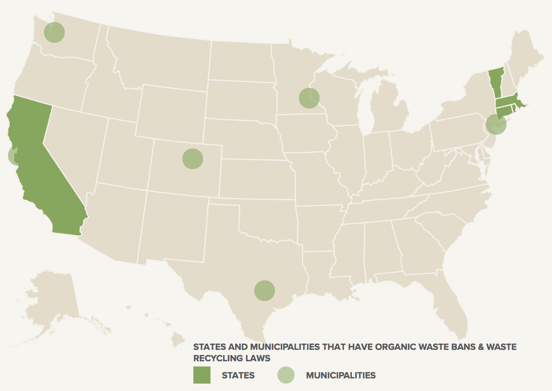 States and municipalities that have organic waste bans and waste recycling laws. Image from ReFED.

As more research is conducted on the benefits created from waste bans, the more likely it is additional regions will jump on the bandwagon. Companies that actively manage unsold inventory and reduce the volume of food sent to landfill will be well positioned to comply.
3. Customer trends
Across the board - from institutional investors, to corporate customers like Walmart, to everyday consumers - the demand for transparent corporate responsibility practices is growing. Today's buyers have endless information at their fingertips, making it a competitive advantage to engage in and promote activities that improve operations and create meaningful impacts for society and the environment. Food manufacturers, wholesale distributors, and grocery retailers can swiftly become better stewards through effective management of unsold inventory.
Metrics around meals donated to nonprofit partners or tons of organic waste diverted from the landfill will boost any company's sustainability credentials, while helping engage current and potential customers. Many food distributors, including Sysco, US Foods, and Gordon Food Service, have turned to sustainability as a strategy for enhancing customer value and attracting new prospects.
4. Tech-enabled solutions
As awareness of America's wasted food problem has grown tremendously over the last few years, so has the number of entrepreneurs developing solutions to address the issue. Solutions vary by business model, industry served, and services offered. Spoiler Alert is designed specifically to help food manufacturers, wholesale distributors, and grocery retailers better manage unsold inventory and reduce the volume of food sent to landfill. Currently, these groups throw out around 9 million tons of food inventory each year. With solutions like ours, food companies have more options to easily and efficiently address challenges like unsold inventory management that may not have been cost-effective or realistic in the past.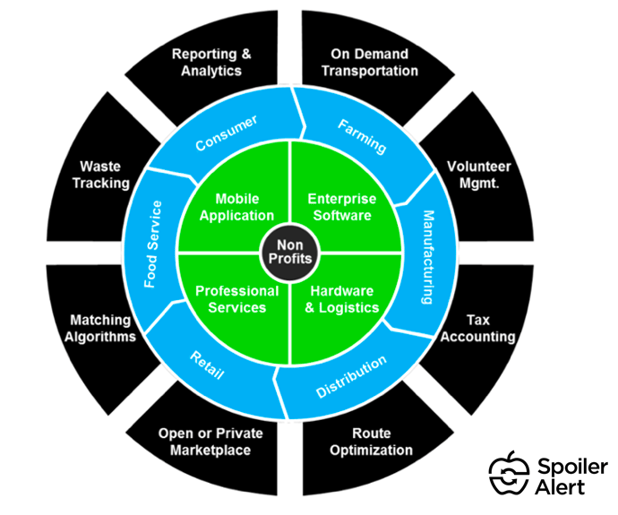 Technology solutions for food recovery and organic waste diversion differ by business model (green), industry vertical (blue), and features/offerings (black). Image from Spoiler Alert.
So what are you waiting for?
Don't fall victim to the 'If it ain't broke, don't fix it' mindset. The benefits from taking action to better manage unsold inventory far outweigh the costs of inaction. Reach out for a free consultation to learn how managing unsold inventory and organic waste streams can benefit your company.