In the past, wholesale distributors have relied on their ability to build strong relationships with their restaurant and food service customers to maintain existing accounts and win new business. In today's world, however, those same customers are looking to their suppliers to offer more. This trend requires that distributors re-assess how their products and services satisfy customer needs. The result is that leading distributors are expanding their offerings beyond traditional goods to remain competitive and increase customer value.
In the food distribution space, we have seen this materialize through: a) the offering of value-added services; b) a growing focus on sustainability; and c) the incorporation of innovative items into their product mix.
Check out the three strategies in this infographic: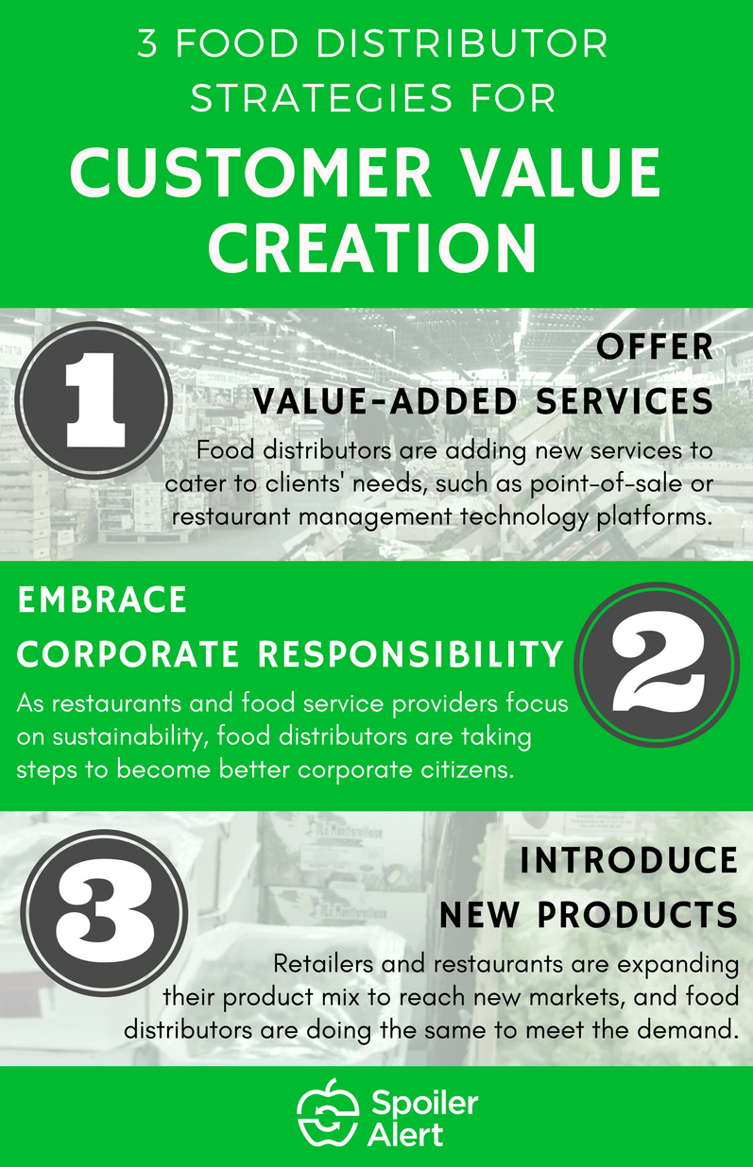 1. Offer value-added services
The last decade has witnessed an infusion of technology in the restaurant industry, as new tech startups strive to increase the efficiency of certain tiresome processes, such as inventory and menu management.
As one example, BlueCart is a web and mobile platform built to "streamline and modernize the wholesale procurement process for buyers and sellers." The technology, which is currently used by over 26,000 businesses, enables time and cost savings by directly connecting restaurateurs with their suppliers. Upserve, as another example, is an all-in-one restaurant management resource that provides payment processing and point-of-sale services.
Food distributors are taking notice, offering similar platforms to serve their restaurateur customers. Sysco Corporation offers CAKE, a fully integrated hardware and software platform combining point-of-sale and guest management services in one system. CAKE, which Sysco acquired in 2013, "brings the expertise and stability of Sysco" coupled with "the innovative creativity of Silicon Valley."
Gordon Food Service works closely with Toast, a fast-growing, Boston-based company that operates an all-in-one point of sale and restaurant management platform. Together, the two "work to better serve restaurant owners by combining cutting-edge technology and unparalleled customer service."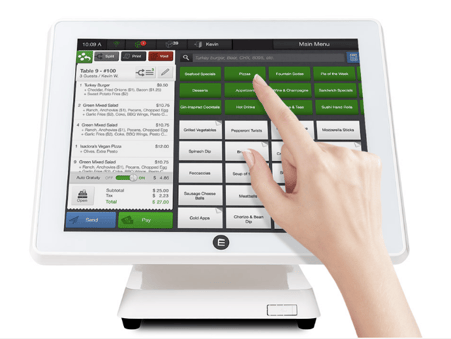 CAKE's point-of-sale system. Image from CAKE.
2. Embrace sustainability
The National Restaurant Association (NRA) conducts an annual survey of 1,300 professional chefs to learn about restaurant food and beverage trends for the next year. For What's Hot 2017, the "Top 10 Concept Trends" included 'environmental sustainability' (#4), 'locally sourced produce' (#5) and 'meat/seafood' (#6), and 'food waste reduction' (#7). Chipotle's Local Grower Support Initiative highlights how restaurateurs are incorporating local food, while Panera's daily commitment to donate baked goods shows how eateries are cutting down on food waste. In addition, we recently highlighted how the three largest U.S. food service companies - Compass, Aramark, and Sodexo - have made commitments to reduce food waste within their own operations.
It is not surprising that corporate social responsibility and sustainability concepts have been picked up by distributors. US Foods has a three-pronged corporate responsibility program - 'Strengthening the Community', 'Safeguarding the Environment', and 'Sustainable Foods and Supplies'. The company has donated more than 79 million pounds to Feeding America since 2007, and facilitates direct donations through sales of its Scoop® products.
Gordon Food Service's Stewardship program emphasizes the company's commitment to leave behind a healthy and growing organization for future generations. Its four focus areas are corporate sustainability, sourcing local food, minimizing environmental impact, and promoting social responsibility.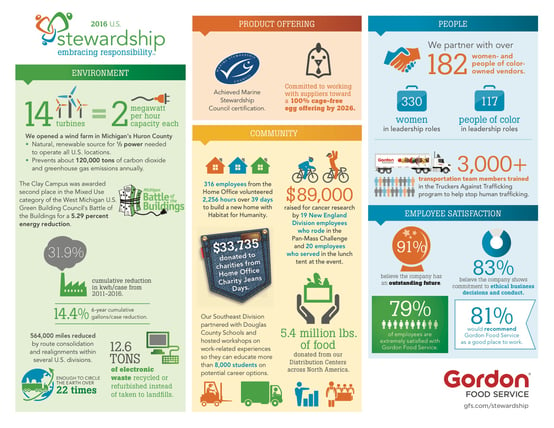 Gordon Food Service's 2016 U.S. Stewardship infographic. Image from Gordon Food Service.
3. Introduce unique products
In an effort to respond to growing consumer interests in ugly produce, retailers and restaurants have started to include non-traditional products into their mix. For example, Loblaw and Walmart have both started carrying cosmetically-challenged produce, and for a limited time, Sweetgreen sold a salad made from food that would otherwise be wasted. Subsequently, food distributors are providing new product offerings to meet the demand.
Robinson Fresh recently partnered with Red Hat Growers, a Canadian produce cooperative, to bring the 'Misfits' imperfect produce brand to the U.S., where it is now carried in over 300 stores across three grocery chains. FreshPoint, a division of Sysco that specializes in produce, built a similar product line called Unusual But Usable, offering seasonal imperfect produce to customers and educating about the food waste problem.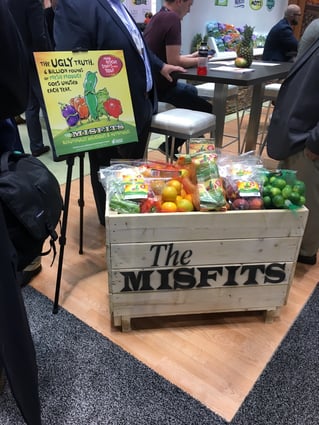 The Misfits produce brand. Image from Spoiler Alert.
Some distributors have gone so far as to develop entirely new products. Baldor Specialty Foods, a large produce and specialty foods distributor in the eastern U.S., committed to sending no organic waste to the landfill by the end of 2016. Baldor implemented a number of strategies to reach its goal, including manufacturing and distributing a proprietary vegetable blend made from off-cuts and trimmings waste. Even though the product is still in pilot, it has helped the company garner national media attention.
Looking ahead
The demands of today's customer means that food distributors must think critically about how to remain agile and offer services that increase the value they can provide to their customers. Whether adding services to cater to new clients' needs, or becoming a more responsible corporate citizen, business as usual is likely not the way of the future.