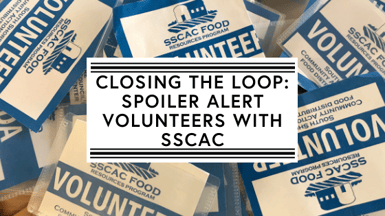 A popular Spoiler Alert employee benefit is our quarterly volunteer outings with community partners. Over the years, this has included meal preparation at the Pine Street Inn; playing bingo with clients at Boston Healthcare for the Homeless; and harvesting vegetables at The Food Project farm in Lincoln. This December, our team took a road trip to the South Shore Community Action Council (SSCAC), a private nonprofit that provides a range of critical services focused on combating the root causes of poverty to low-income individuals and families on the South Shore of Massachusetts.
A key component of SSCAC's operations is the food pantry that it operates out of the lower level of its building. This is where we had the opportunity to spend a few hours helping out and learning about how a food assistance operation works.
The Food Resources Program at SSCAC
Since 2002, the Food Resources program at SSCAC has operated a Food Distribution Center at it's Plymouth-based facility to provide food insecure populations with nutritious food "in the most cost-effective way through coordinated food pick-up, transport, storage, and distribution." The center services between 6,000 to 9,000 clients each month in communities as far north as Hull, west as Carver, and south down to Wareham. In the winter months, the center experiences increased demand due to a trade-off between paying for heat and food. Recently, they've seen record demand, distributing over 500,000 pounds of food in the last fiscal year.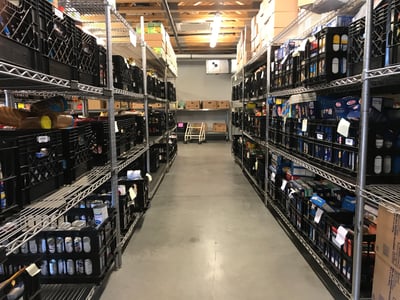 A food storage area for shelf-stable food at SSCAC.
In February 2017, while helping to build out the food recovery program at Sysco Boston, Spoiler Alert introduced the food distributor to SSCAC as a new food donation outlet. Since that time, SSCAC has picked up bi-weekly donations at Sysco Boston's facility, consisting mainly of high-quality fruits and vegetables. Linda Rohr, Food Resources Manager at SSCAC, told us, "We've had donations of items like fresh ginger, which creates excitement for the Councils on Aging [a food recipient group] around coming up with creative ideas on how to use it and learn new culinary skills."
Food recovery challenges at SSCAC
Even with partners like Sysco Boston, Linda and SSCAC are continuously searching for new donation partners who are willing to donate surplus food. "I think many food manufacturers, retailers, and local restaurants are now aware of food recovery programs, but awareness doesn't always mean they're willing to hop on board," explains Linda. "For example, it has taken me two years to get a nearby restaurant to participate." It is especially difficult to source food products that are high in nutrition and low in sodium, as shelf-stable, "heat and eat" meals are easiest to donate, and often, what clients want due to convenience.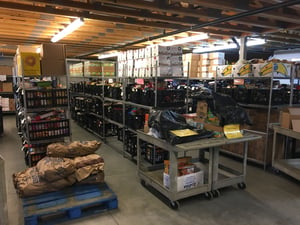 Spoiler Alert helped to organize donations of shelf-stable food items.
In addition to more donations, SSCAC lacks adequate equipment. The organization currently picks up all donations using vans designed for moving people - not perishable product. "Without a truck that has a lift-gate, picking up donations takes a lot of time," notes Linda. "We're constantly loading and unloading individual boxes rather than moving pallets of food." In instances when opportunistic, large donations become available, SSCAC has been able to share a truck from a partner pantry, with the organizations splitting the donations. But the vehicle issue remains a challenge. "We have lost some food due to this," states Linda.
If you are a food business in the South Shore region of Massachusetts that is interested in starting or enhancing food donation activity, reach out and we would be happy to make an introduction to SSCAC.
Spoiler Alert at SSCAC
Tour
When the team arrived at SSCAC, the first activity was a tour of the Food Distribution Center. The ground-level facility is segmented into various sections, some of which are dedicated to food distribution initiatives (e.g., the Councils on Aging groups or the school backpack program) while others act as storage areas for different food products.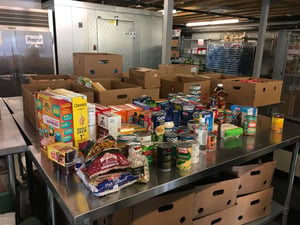 Food donations range from private label products from regional grocery stores to fresh vegetables.
As we went through, it was interesting to see how staff match food products with the nutritional needs of the recipient groups (to the best of their ability given what's available). For example, the Councils on Aging get smaller-portioned, low sodium items, while there is a focus at including high-protein food that isn't too heavy for the school backpack programs.
T-Shirt Bags
In February 2017, the town of Plymouth officially banned retail stores from using single-use plastic bags. Although there are a range of positive outcomes associated with this decision like waste reduction, an unintended outcome can be felt at SSCAC: a lack of bags to distribute donations. Never one to turn down a challenge, Linda came up with a creative solution — turning old t-shirts into food donation distribution bags.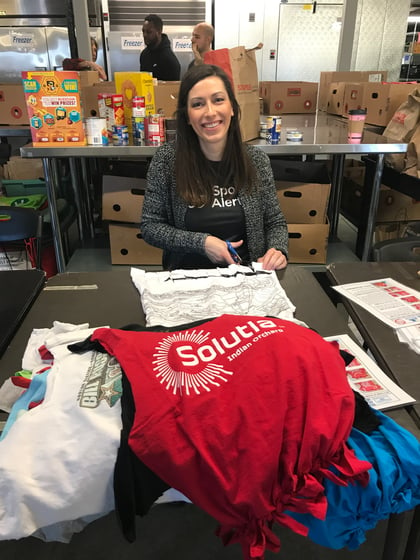 Jessica Janiuk, Senior Software Engineer, frays the bottom of a t-shirt as part of the bag making process.
The process is simple: Remove the sleeves, cut out the neck, fray the bottom, and tie the two frays together to create knots. Once the entire bottom is sealed, voila, a bag has been created. Over three hours, Spoiler Alert team members were able to create 36 reusable bags, with all excess fabric scraps set aside to be recycled.
Donation Management
The majority of the team spent the day helping Linda and her colleague Kathy manage the food donations from regional businesses. Because SSCAC doesn't have a truck, the process looks something like this:
Volunteers use rolling carts to transfer boxes of food product from the van into the facility.

Rolling carts and the contents are weighed using a roll-on scale so that all donations can be properly recorded for tax deduction and other reporting purposes.

Food on the rolling carts is then sorted appropriately, with perishable items being placed in adequate refrigeration, and all non-perishable items sorted by type and date label.

Food items are aggregated based on the recipient organization.

Food items are re-weighed before carts are rolled to the recipients' vehicle for transportation.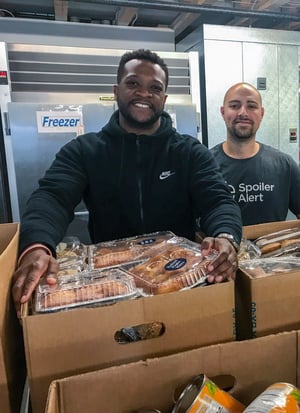 Stanley Jules and Yassin Abo El Nour sort new donations of fresh bakery items (above). Below, Spoiler Alert staff wait to weigh-in newly donated produce under the guidance of Linda.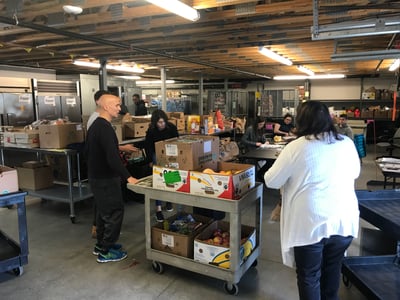 Over the course of our volunteer day, we saw over 1,000 pounds of food redistributed from the Food Distribution Center directly to organizations that will feed food insecure populations on the South Shore.
"It was great to see the results of a relationship that we helped to facilitate. The SSCAC is a wonderful organization that is doing important work on the South Shore, and it was a fantastic opportunity to see how Spoiler Alert helps organizations like them. It brings home an important aspect of our work in a truly meaningful way." Ari Hopkinson, Enterprise Customer Success Manager
Closing the loop
Giving back to the community is a foundational value at Spoiler Alert and we make sure to provide the time and opportunities for employees to volunteer. When that volunteer experience brings our work to life and helps close the loop between what we perceive our solution is and what we see in real-life, well that makes it all the more rewarding.
To check out job openings at Spoiler Alert, visit our Careers page.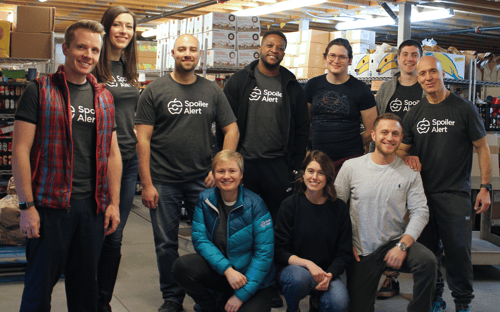 Image from SSCAC.