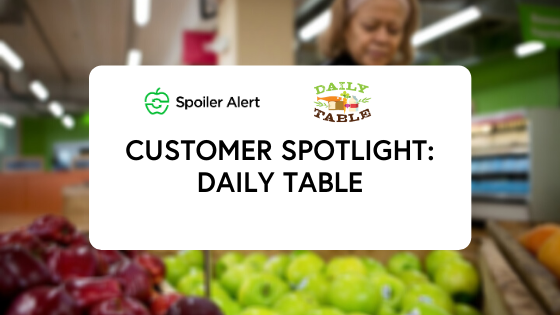 Daily Table knows just how valuable wasted food can be. The Dorchester, MA-based not for profit grocery store offers wholesome, healthy prepared meals and groceries by sourcing surplus product via donations and special buying opportunities from a large network of farms, supermarkets, and food manufacturers.
Started by former Trader Joe's President, Doug Rauch, the store opened in June 2015 (which made our list of the Top 12 Food Waste Stories in 2015) and has received lots of great coverage by The Boston Globe, TIME, and NBC News.
At Spoiler Alert, we're thrilled to support Daily Table with their sourcing. One recent highlight was a donation of several thousand pounds of strawberries, recovered by Food For Free through our platform, and supplied to Daily Table. The recovered strawberries were transformed into their popular strawberry banana smoothies.
Thx 4 the 5,000lbs of strawberries @MySpoilerAlert! They went to Grant Manor, Daily Table Dorchester, & K-Lo Market! pic.twitter.com/1UAScvgu2C

— Food For Free (@foodforfreeorg) December 18, 2015
We sat down with Daily Table Executive Chef Ismail Samad to learn more about his background in the food industry, how he helps keep the Daily Table business model sustainable, and why access to healthy food is so important for those who are food insecure.
SA: What was your journey to Executive Chef at Daily Table?
IS: I worked at a bunch of farm-to-table restaurants when I first moved to Vermont about 7 years ago. I built relationships with farmers and realized that there was food that was perfectly ready to eat but not marketable. I wanted to open my own restaurant with this idea: wouldn't it be cool to open a place that focused on what the farmers wanted to sell me versus what I wanted to buy from them? Through those conversations hatched The Gleanery. Later, I wanted to get involved in affordable nutrition and a friend told me about Daily Table.
SA: What types of food do you offer at Daily Table?
IS: We have prepared foods, a "grab and go" line (for sandwiches & salads), smoothies, pre-chopped vegetables, sauces, dry foods such as pasta, canned goods, fresh produce, eggs, dairy, and bread.
SA: Can you give us an example of your food recovery efforts?
IS: We had a full pallet of mangos come in from Chelsea Market totaling to about a ton of mangos. We processed them and were able to turn it into about 50 gallons of carrot mango chutney used for fish, chicken, and potato dishes. The rest we turned into mango smoothies, supplemented by mint from South Shore Organics and yogurt from Stonyfield.
SA: What is one ingredient you can't live without in your kitchen?
IS: I will always have carrots, celery, and onions. I will always have fresh herbs. I like to have fresh chives, fresh thyme, salt, pepper, fresh herbs, olive oil. I do like spice, so I will use chili pastes as rubs.
SA: What keeps you up at night?
IS: Labor. We're trying really hard to make this a scalable model. We want to replicate it, and it has to be sustainable. There is so much labor that goes into sorting and cooking food from scratch. Mangos have to be sorted, peeled, processed. We could easily cut out the labor by buying frozen mangos from a supplier - but that isn't the idea. We don't want to take the easy way out.
For more information about Daily Table (and delicious photos!), check out their Instagram feed.