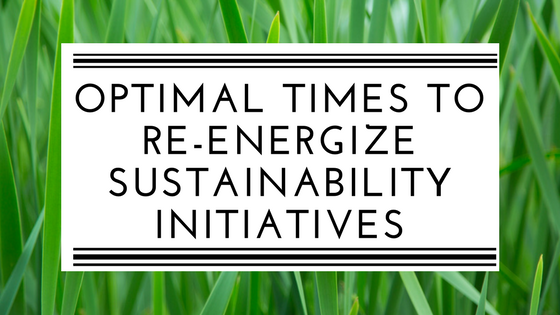 Cutting costs, managing supplier relationships, maximizing customer value - food business executives constantly juggle numerous priorities to keep their company afloat. In this environment, some initiatives - like sustainability - can get lost in the shuffle, especially when limited resources are dedicated to maintaining or updating programs. But new reports continue to identify that both investors and customers care about sustainability and transparency, emphasizing the significance of creating programs that generate meaningful impacts.
Even still, it can be challenging to convince stakeholders when the time is right to reassess and reinvigorate sustainability initiatives. Although sustainability should always be top-of-mind, there are situations that naturally lend themselves to transition, and it is these times when new priorities, such as a focus on preventing hunger or reducing food waste, can be incorporated into a strategy.
Are your corporate responsibility or sustainability initiatives stuck in a rut? If so, take advantage of these scenarios to re-charge the momentum.
1. Executive leadership change
A 2016 Accenture survey of over 1,000 CEOs found 80 percent believe that demonstrating a commitment to societal purpose is a differentiator in their industry. This type of executive buy-in is essential to creating sustainability initiatives that drive financial benefits. For this to occur, it is important to establish consensus on focus areas, goals, and financial outcomes, as well how to keep stakeholders accountable. A shift in leadership presents an ideal opportunity to revisit these factors and form new consensus.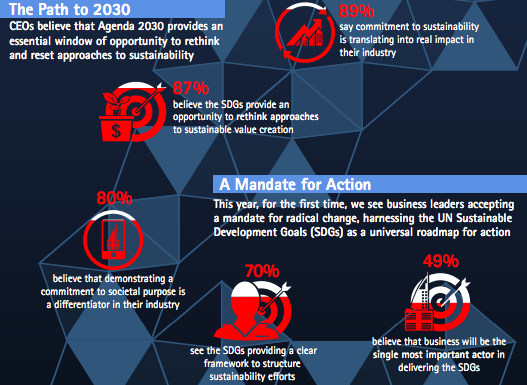 Infographic summarizing findings from 2016 Accenture CEO survey. Image from Accenture.
New executives that are looking to increase company value and change the status quo might want to start by assessing the effectiveness of the current sustainability program. Sustainability can empower employees and increase engagement. In addition, a new report from Weber Shandwick and KRC Research shows that millennials are more likely than other generations to remain loyal to employers when CEOs express activist views. For food businesses, tackling hunger - a problem that impacts 42 million Americans - is one area that is both relevant and ripe for intervention.
2. Mergers, Acquisitions, Divestitures
One could argue that mergers, acquisitions, and/or divestitures are the greatest period of transition at a company. Staff turnover, new standard operating procedures and key performance indicators, as well as different operating systems and technology present stumbling blocks that must be overcome. But evidence that environmental, social, and governance (ESG) factors can affect the likelihood of an M&A deal, as well as negatively impact a deal's valuation, creates an argument that this is also the perfect time to reexamine sustainability priorities. Given that ESG performance may already be under review, it makes sense to take advantage of this transition period to identify areas of improvement and take action.
Recent M&As in the food industry present real-world examples of this type of influence. In April, DanoneWave, the new business unit created by Danone's acquisition of WhiteWave, became the largest 'benefit corporation' in the United States, with goals to become a certified B-Corp by 2020. Its new priorities include healthier products, water conservation, and waste reduction. "It's a clear statement to the world - and the people in our company - about what we're up to and what we're trying to do, which is to bring healthy food to as many people as possible," notes DanoneWave CEO Lorna Davis.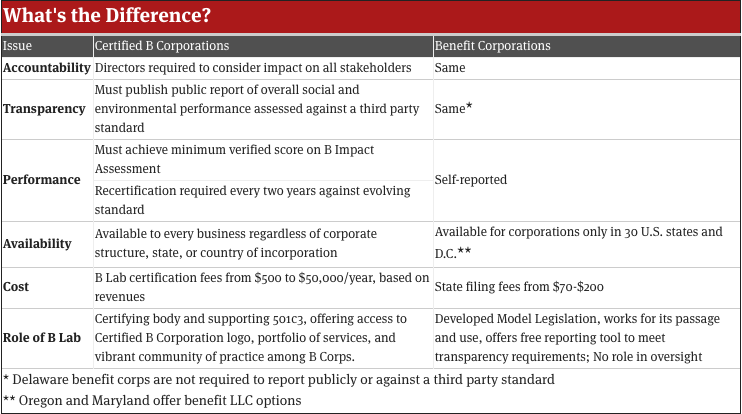 The key differences between a 'B Corp' and a 'benefit corporation'. Image from B Lab.

3. Shifting consumer preferences and awareness
Consumers today are demanding much more from food businesses than simply the products they offer. Transparency, convenience, and variety all factor into customers' decisions, while increased access to information has created an educated consumer class ready to use purchasing power to drive change. Companies are responding in a number of ways. For example, Coca-Cola and PepsiCo are both offering healthier options than traditional soda, while Campbell's is establishing a greater online presence to expand avenues for customers to purchase product. Higher up the supply chain, food distributors are focusing on expanding value-added services, embracing sustainability, and introducing new products to increase customer value and retain business. Companies seem to agree that to remain competitive, they must be acutely in-tune with the marketplace and react accordingly.
Therefore, findings from a new study that shows more than half of Americans are generally aware of the food waste problem should serve as a wake-up call for food businesses. Research suggests that implementing strategies to reduce food loss and waste can strengthen customer relationships and increase retention, highlighting the importance of taking action. Companies seeking to stay on top of consumer preferences and awareness should take note of this trend, and assess whether current sustainability initiatives are appropriate for addressing the issue.
4. Changing policy landscape
Across the country, regional governments are taking actions that protect natural resources. Groups like the U.S. Climate Alliance have formed, while states and municipalities are passing legislation specifically targeting environmental problems. Impending policy changes are a great opportunity to be proactive and re-evaluate sustainability commitments to make sure current initiatives are adequate and enable compliance.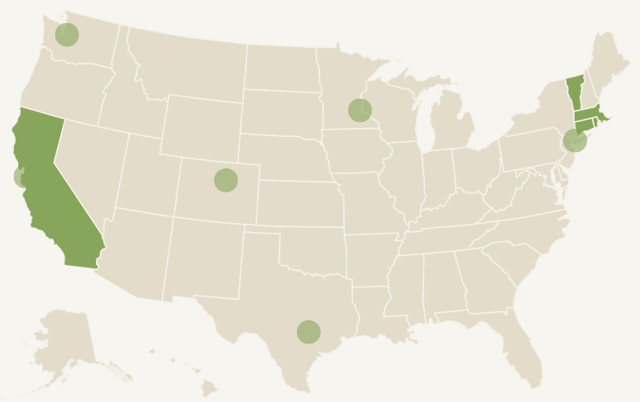 States and municipalities (in green) that have passed legislation targeting organic waste. Image from ReFED.
In the last five years, food waste has been a focus of legislation in a number of states and cities, as awareness of the consequences of wasted food (and the benefits associated with taking action) become more widespread. Recently, the New Jersey governor established a statewide goal to halve food waste by 2030, while New York City announced a proposal to expand its commercial food waste ban to additional lower-volume generators. As states realize the benefits of food waste legislation, it could be a matter of time until new laws are in place.
Taking action...
Even when timing is ideal, effectively re-energizing sustainability programs requires proper planning. Take time to:
Identify areas of improvement

Compile industry examples of success

Build a business case

Obtain buy-in from necessary stakeholders and set up a system for accountability

Take action
Spoiler Alert helps food businesses better manage unsold inventory and reduce the volume of food that is sent to the landfill. If you are considering food loss and waste strategies, reach out and learn how our platform can make taking action easier, efficient, and effective.