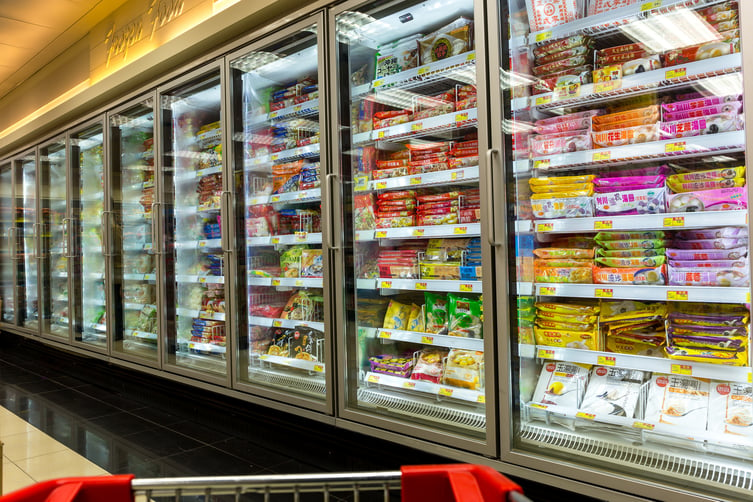 Welcome to the world of frozen foods, where quality, convenience, and sustainability intersect to provide a winning combination for both consumers and CPG manufacturers. In this blog, we delve into the rising popularity of frozen foods, opportunities for manufacturers, and the role frozen foods play in food waste reduction.
The rise of frozen foods: quality, convenience, and affordability
In today's fast-paced world, frozen foods have gained significant traction among consumers seeking convenience and value without compromising on quality. Shoppers are increasingly turning to frozen fruits, vegetables, and other products as a reliable solution to bridge the gap between shopping trips and reduce food waste.
The appeal of frozen foods is not limited to any particular generation; it resonates across all age groups. From Gen X to Millennials and Gen Z, the love for frozen chicken nuggets, snacks, and fruits knows no bounds, which is not surprising given the many advantages they offer.
With inflation-driven grocery prices, frozen foods provide shoppers with quality value and convenience. Consumers reported purchasing both fresh and frozen produce, relying on frozen fruits and vegetables to help them bridge the gap between shopping trips when fresh produce is running low. In fact, basically all US households (98.6%) purchase frozen food and in 2022, frozen sales reached more than $72 billion.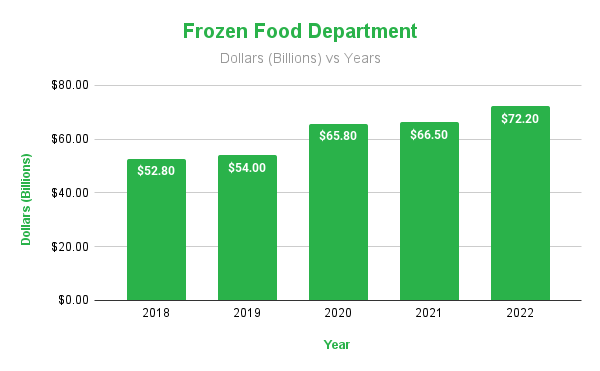 SOURCE: AFFI
And consumers are adapting to purchase even more frozen foods. The American Frozen Food Institute released a study on frozen food trends in January of 2023 which revealed that 29% of consumers have expanded their freezer capacity since the onset of the pandemic, investing in additional fridge/freezer combos or chest freezers.
Notably, consumers are not letting their investments go to waste. They continue to purchase frozen foods much more frequently than pre-pandemic, with an increase of 13.1% in trips per year. As inflation takes a bite out of consumers' spending power, 81% of them are actively seeking money-saving measures, with shelf life being one of the factors considered. In fact, 77% of people in the study found that short shelf-life of fresh foods is a contributor to waste. In a market where wasting money is top of mind, dollars are shifting toward frozen foods due to their extended shelf life compared to fresh produce.
Adapting to changing retail trends: discount stores, private label, and innovations
The retail landscape is evolving, and discount stores are seizing the opportunity to prioritize their frozen sections. Many retailers are doubling down on frozen food as an area of investment in new store openings and remodels; integrating freezers in secondary locations such as end caps, in the fresh food departments, and at checkout counters.
Discount stores like Dollar Tree and Family Dollar have recognized the potential in the frozen food segment and are expanding their offerings. Dollar Tree, for instance, has been "aggressively expanding" its range of frozen and refrigerated products, adding thousands of cooler doors and introducing private label options. By creating attractive selections of proteins, pizza, ice cream, and more, discount stores are capitalizing on the positive response from customers.
In regards to updating store layouts, Mike Wytinski, former chairman and CEO of Dollar Tree shared in 2022, "That allows us to bring in more assortment into the store and [get] more sales per square foot. The cooler is absolutely an improvement. And every time we remodel a store, we want to bring in more coolers, both cold—cool beverage and frozen beverage, because that's what the customer is moving to. And it's a convenience item and it's meeting their needs."
Moreover, private label options are gaining traction across multiple categories, including frozen foods. According to FMI, 80% of industry executives plan to increase private label brand investments over the next two years. A 2023 survey by Manufacturer and Retail Outlook further illustrates that prioritization by looking at where retailers are saying they are creating more space for private brands: frozen food (45%), general food (41%), beverages (28%), and home care (23%). This shift reflects the growing demand for quality choices at competitive prices, allowing consumers to enjoy frozen foods while adhering to their budgetary constraints.
The increased sales in the frozen food sector since the pandemic represents a great opportunity for brands to innovate and develop new products. Kraft Heinz recently launched its HomeBake 425/:30 line, which is a "family-friendly, mix-and-match collection of frozen entree, side and veggie dishes made with quality ingredients."
The power of frozen foods in foodservice
The benefits of frozen foods extend beyond the retail sector, making them an invaluable resource for foodservice operators. Recent research commissioned by the American Frozen Food Institute reveals that over 90% of foodservice operators incorporate frozen foods into their menus. These operators recognize the advantages of frozen foods, including ease of preparation, year-round availability, product consistency, and extended shelf life.
Foodservice operators greatly benefit from the convenience and cost-effectiveness of frozen foods. With frozen products, they can minimize prep time, reduce labor costs, and maintain consistent quality across multiple locations. Additionally, frozen foods provide menu versatility, enabling foodservice operators to offer a wide range of options regardless of seasonality.
Alison Bodor, AFFI President and CEO, shares, "Frozen foods help to meet the immediate demands of foodservice operators and should be part of future success strategies. The continuous innovation in frozen creates even more opportunities for meal solutions that customers will enjoy."
The benefit relays to CPG manufacturers as well, as the demand for frozen foods continues to grow. In fact, 40% of foodservice operators are purchasing more frozen foods than they did in 2019.
In addition to innovating new products, CPG manufacturers can take advantage of the excess inventory in frozen foods they already have by selling to foodservice organizations.
The role of frozen foods in reducing food waste
One of the most significant advantages of frozen foods is their potential to combat food waste. In fact, frozen food generates 47% less food waste compared to ambient and chilled foods. According to a study conducted by the American Frozen Food Institute, frozen fruits and vegetables play a vital role in reducing waste while increasing consumption of produce. The attributes of frozen foods, such as longer shelf life and the ability to prepare only what is needed, contribute to saving money and reducing waste.
While 94% of American households are already purchasing frozen produce, an overwhelming 86% of survey respondents agreed that having frozen produce makes it easier to consume more produce in general and 83% reported that frozen fruits and vegetables help them reduce food waste and save money.
Frozen foods also offer a solution for consumers who may be unsure of how to properly store and use fresh produce. The fear of spoilage and wasted money often leads consumers to choose frozen options as a reliable backup plan. By incorporating frozen foods into their meal planning, consumers can confidently reduce waste and stretch their budgets further.
---
The frozen food industry presents vast opportunities for CPG manufacturers to thrive in today's retail landscape. By embracing the growing demand for frozen products, along with an increase of coolers at discount stores, manufacturers can tap into the inherent benefits of liquidating frozen foods effectively while providing quality, convenience, and waste reduction.
Find out how automating your closeout program can generate value for your business by downloading our research report, Technological maturity in the secondary CPG market.