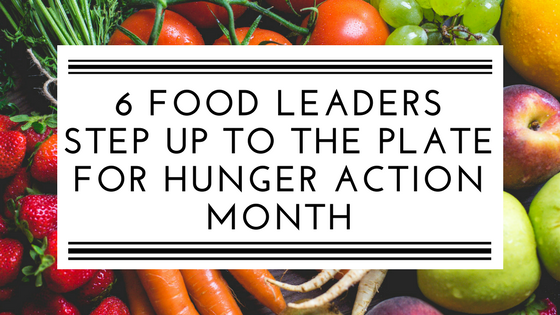 Anyone engaged in the U.S. food space should be aware of the paradox that despite nicknames like the 'land of plenty', 42 million Americans experience hunger. Yet with the range of other issues consuming the minds of the American public, prioritizing the hunger crisis can be difficult. That is why each September, Feeding America bands together with partner organizations to promote Hunger Action Month, a time to advocate, volunteer, and donate to help spread awareness about food insecurity and hunger in our communities.
Last month, six leaders from the food manufacturing, wholesale distribution, and grocery retail space stepped up to the plate to support Hunger Action Month, and we highlight their commitments below.
Ahold Delhaize
From September 14-27, Peapod, Ahold Delhaize USA's online grocer division, commemorated Hunger Action Month by donating $1 of every meal kit sold to Feeding America, up to a $10,000 donation. Peapod's announcement states that for every dollar donated, Feeding America provides 11 meals to food insecure families. "We are members of the communities we serve, and we want to do our part to ensure every family has enough to eat," notes Carrie Bienkowski, Chief Marketing Officer of Peapod. "We believe fresh food is a right, not a privilege."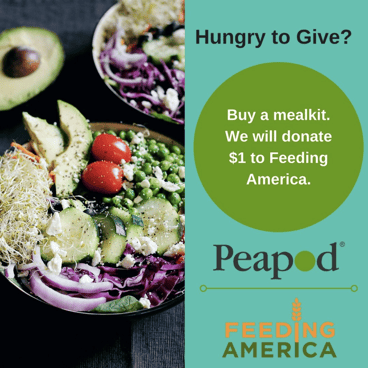 Peapod marketed its partnership with Feeding America for Hunger Action Month on social media. Image from Peapod.
C&S Wholesale Grocers
C&S Wholesale Grocers took a unique approach to recognizing Hunger Action Month. Rather than make donations directly to Feeding America or hunger relief agencies, the company partnered with FoodCorps to run the Victory Growers Award contest, designed to raise awareness of hunger in schools. FoodCorps service members were asked to write an essay sharing stories of hunger at their service sites and persuading readers to take action. C&S provided $5,000 to the winner, and two $1,000 prizes to runner-ups, which will be used to support food education programs.
Hormel Foods
Hormel Foods is another major corporation that took action against hunger last month. On Hunger Action Day (September 17), the food manufacturer made donations to 41 hunger relief organizations throughout the United States, totalling $300,000. "Hormel Foods has been a generous food donor to Feeding America and local member food banks, contributing more than 2 million pounds of protein last year," explains Karen Hanner, Feeding America's Managing Director, Manufacturing Product Sourcing. In the 2016 fiscal year, Hormel Foods contributed $7.4 million in cash and product donations to alleviate hunger.
Kroger
There were a number of food waste and hunger-related announcements in September, but Kroger's new Zero Hunger | Zero Waste plan is among the most noteworthy. The initiative from the country's largest grocery retailer includes calls to provide three billion meals to food insecure populations and eliminate food waste company-wide by 2025. The plan also establishes a $10 million innovation fund within The Kroger Co. Foundation to support the development of new solutions that address America's hunger-waste paradox.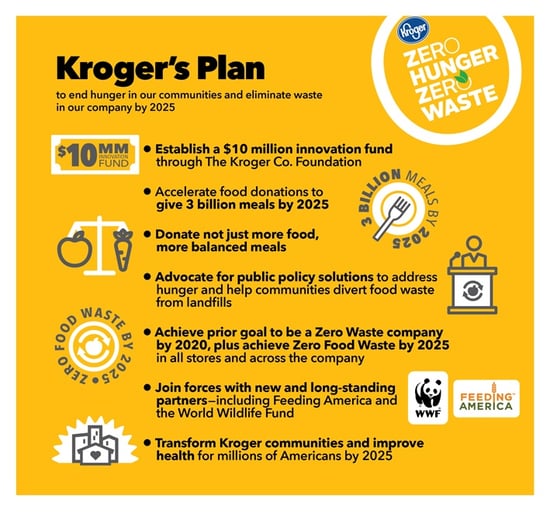 Image from Kroger.
Kroger executives note that implementing the plan will require collaboration. "While we are clear about our vision, we are flexible about how to get there," states Jessica Adelman, Kroger's group vice president of corporate affairs. The company intends to work with existing partners, like Feeding America and WWF, as well as external stakeholders and members of the public to crowdsource ideas and make the 'moonshot' initiative a reality.
Smithfield Foods
Employees at Smithfield Foods led the charge against hunger for Hunger Action Month. Staff members collected over 14,000 pounds of food for donation and volunteered at local food recovery agencies across the country. The company also helped raise awareness of America's hunger problem by sharing information at its locations and on social media. "We're proud that so many of our employees stepped up this month to raise awareness about the issue and help their fellow neighbors become more food secure," said Dennis Pittman, senior director of hunger relief for Smithfield Foods.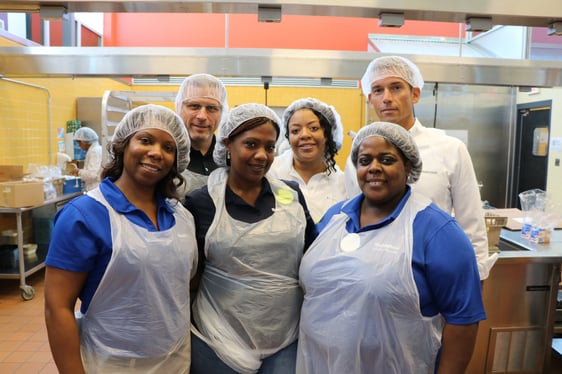 Smithfield Foods' employees at a Hunger Action Month volunteer event. Image from Smithfield Foods.
Southeastern Grocers
Southeastern Grocers' (SEG) portfolio of companies is located throughout the southeastern United States in areas that experienced severe damage from recent hurricanes. To support regional food assistance agencies and Hunger Action Month, SEG encouraged customers to donate to Feeding America at checkout. "No one should have to worry about where they will find their next meal, especially those in Florida, Georgia, and South Carolina continuing to recover from the record-breaking effects of Hurricane Irma," said Anthony Hucker, SEG president and CEO.
Beyond Hunger Action Month...
It is encouraging to see corporate leaders take a stand on this important issue, but to truly tackle hunger, awareness and action must become institutionalized. At Spoiler Alert, we believe that food donation programs can be an integral part of a holistic strategy for managing unsold inventory, while creating tangible business benefits like reduced waste disposal fees and a more engaged workforce.
Our platform is built to help food businesses efficiently and effectively manage donation programs. To learn how Spoiler Alert can help your business manage unsold inventory and reduce hunger, visit our Solutions page.