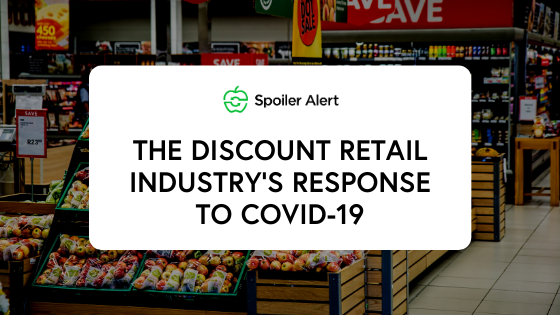 Coronavirus has impacted the food supply chain in countless ways. At Spoiler Alert, we are especially attuned to supply and demand disruptions caused by this crisis for discount retailers that specialize in sourcing excess, discontinued and/or distressed food inventory. Given that spending on groceries is surging while unemployment rates have simultaneously reached their highest peaks since the Great Depression, it's abundantly clear that access to affordable food is more important than ever.
Many of the nation's largest discount retailers are rising to the challenge of meeting growing demand while keeping customers and employees safe and serving the neediest in their communities. Just as consumers turned to (and stuck with) discount food retailers to help them get through the Great Recession a decade ago, it is inevitable that a growing number of shoppers will seek to shave a few dollars off of their food budgets as the nation enters a new era of economic uncertainty. As millions of Americans unexpectedly find themselves unemployed or furloughed due to the economic impact of COVID-19, extreme-value stores are providing critical access to food at prices that cash-strapped families and individuals are more likely to be able to afford.
On the supply side, stay-at-home orders across the country have altered typical food purchasing patterns. As a result, discount retailers, many of which are accustomed to seeking out opportunities to buy surplus food inventory in order to provide their customers with low prices, are seeing a different assortment of available inventory in the marketplace as consumers shift towards eating almost all of their meals at home and manufacturers focus production on fewer SKUs. As a result, discount retailers are seeing shifts in the types and categories of excess and distressed products available to them but are quickly adapting in order to purchase food items which may have otherwise been susceptible to waste.
To illustrate how some of the largest discount food retailers have adapted to these unprecedented times, we've highlighted some of their efforts below.
Big Lots
Big Lots merchandises its stores with a variety of categories, including essentials like grocery items, cleaning supplies, and personal care products at nearly 1,500 locations. As an essential business, they are staying open to provide customers with these critical items during the COVID-19 crisis, albeit while taking necessary precautions for the safety of their customers, store associates, and warehouse employees.
Big Lots' response includes setting up online ordering with curbside pickup to reduce contact between customers and store associates. They've also designated specific times for seniors and other at risk individuals to shop in less crowded conditions and are offering a 15% discount to medical professionals, commercial drivers, and other first responders to this crisis. For reasons related and unrelated to COVID-19, the retailer is also doubling down on its efforts to source opportunistically and is currently increasing the percentage of excess, discontinued and distressed inventory that it purchases.
Source: Big Lots
Grocery Outlet
Grocery Outlet is a California-based, extreme-value grocery retailer with more than 300 locations along the West Coast and in the Mid-Atlantic, each of which is managed by a local independent operator (IO). Beyond implementing precautionary practices across the board at all locations, such as frequent cleaning of high touch areas and encouraging shoppers and employees to stand at least 6 feet apart, individual IOs have also tailored their responses to COVID-19 to best meet the needs of their respective communities. Some locations have implemented special hours specifically for seniors to shop first thing in the morning while the store has been freshly cleaned and stocked. Others are providing emergency agencies and individuals in need with food free of charge or at cost to combat growing rates of food insecurity. One IO has even started livestreaming store tours on Facebook to show customers what is in stock from a social distance, and another has put together ready to cook meal kits and arranged a pick up and delivery program on the fly.
Source: Grocery Outlet of Lompoc
As demand for grocery items has increased, opportunities to purchase surplus and excess food inventory has also changed. Grocery Outlet is best known for offering its customers a mix of "WOW! Deal" (i.e. opportunistically purchased) and everyday items, and they have remained committed to finding opportunities to present customers with deals even as dynamics in the marketplace have changed. Grocery Outlet's President R.J Sheedy has pointed to foodservice items, vitamins and supplements, and hardline goods as areas where they are finding opportunities to pass value onto their customers.
Ollie's Bargain Outlet
With 360 locations and a tagline of "Good Stuff Cheap", Ollie's Bargain Outlet is no stranger to sourcing excess inventory opportunistically in an effort to pass savings on to their customers. While Ollie's sells products across many categories including housewares, electronics, and books, they have a large food department and have stayed open during the COVID-19 crisis with an increased commitment to stocking essentials such as personal care products, cleaning items, and food.
Beyond taking the necessary public-health promoting precautions to safely maintain operations, Ollie's has responded to employee well being with extreme compassion. They've temporarily increased pay for in-store and warehouse staff, provided all store associates with gloves and masks, and adjusted attendance and healthcare policies to be more responsive to the current public health crisis. Furthermore, they've partnered with Feeding America to raise funds for more than 100 food banks located in the communities surrounding Ollie's store locations.
Source: Cal Ripken, Sr. Foundation
Creativity, compassion, and resourcefulness
At Spoiler Alert, we're grateful to see some of the largest buyers of excess inventory (many of whom are close partners of ours) stepping up to the plate to serve their communities during this crisis. We remain optimistic that the discount retail industry will continue to exhibit creativity, compassion, and resourcefulness to connect their customers with nutritious products at affordable prices during this time of need and into the future.