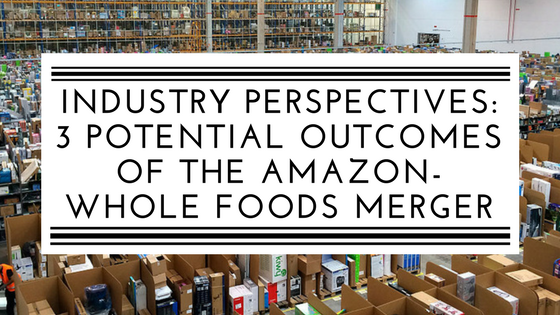 Last month, Amazon made waves after announcing that the company will acquire Whole Foods Market for $13.7 billion. Fallout from the deal was instantly felt in the stocks of major grocery chains, while predictions of 'what happens next' abounded from financial analysts, industry experts, and everyone in between. Will this be the end of grocery retail as we know it? What brands will be hit the hardest?
Although it will take time for these answers to come to fruition, we wanted to highlight three potential outcomes that have been discussed since the deal was announced.
Outcome 1: More competition in food distribution
Given Amazon's expertise in distribution and delivery of durable goods, it is logical that analysts are expecting the company to expand its footprint in food delivery following the acquisition of Whole Foods. "The risk has increased that AMZN (Amazon) becomes a disruptor to food service distribution models," said JPMorgan analyst John Ivankoe in a research note after the deal was made public. According to JPMorgan, the focus of this disruption will likely be on the independently-owned restaurant sector, which is about a $256 billion market opportunity comprised of more than 300,000 outlets.
Amazon's acquisition of Whole Foods provides Amazon with a major asset that could propel them into this space - over 450 physical stores in locations often surrounded by target customers. "Armed with those locations, Amazon could make a bigger push into the distribution market, even taking business away from broadline and specialty distributors," notes Jonathan Maze, Senior Financial Editor of Nation's Restaurant News.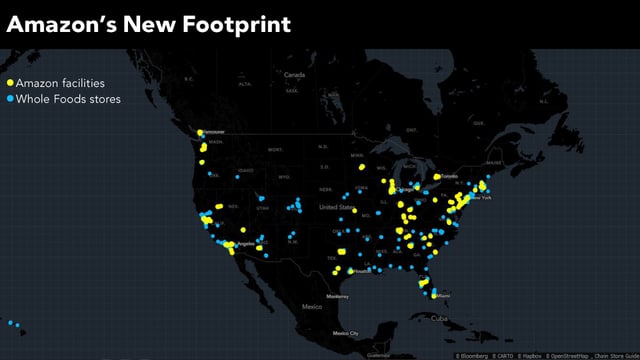 Amazon's new footprint with the addition of Whole Foods retail locations. Image from Bloomberg.
Top food distributors in North America, US Foods and Sysco Corporation, both saw stock prices fall immediately after the announcement, indicating that investors are wary of Amazon's potential. In recent years, food distributors have already been implementing strategies to increase customer value, including adding expanded services and embracing sustainability. In the future, it may be advantageous to build upon these initiatives, as well as focus on how technology can support operations (much like Amazon's technology will support Whole Foods).
Outcome 2: Increased access to healthy food
Although not all of the predictions that have surfaced since the Amazon-Whole Foods deal have been encouraging, one outcome that would have significant positive impacts is the potential increase in access to healthy food. "Both food and technology have the power to transform lives - imagine the possibilities when they are brought together," exclaims Applegate President Steve Lykken in a statement regarding the merger. It would certainly make sense that combining the world's leading ecommerce brand with Whole Foods' mission and focus on nutritious food would create a company capable of bringing wholesome food to the masses. And some in the food space are asking for just that.
Soon after news of the acquisition broke, Annie's Homegrown President John Foraker wrote an open letter to Jeff Bezos calling on the Amazon CEO to use the power of his new company to end food deserts in America. Food deserts are characterized as areas with limited or no access to fresh, nutritious food. In America, more than 23 million residents live in an area more than a mile from a supermarket, which tend to be low-income urban or rural neighborhoods. "The thought of Whole Food's mission combined with technology and the ability of a company like Amazon to help conquer some of the last-mile issues that have prevented access and distribution into really difficult places seems like a golden opportunity," said John Foraker in an interview.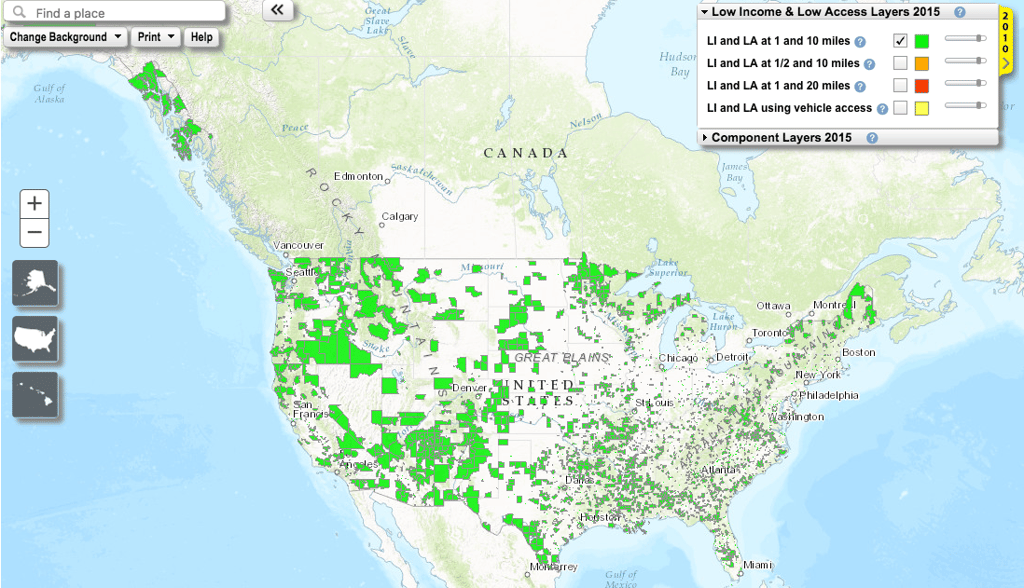 The USDA Food Access Research Atlas presents a spatial overview of food access indicators for low-income and other census tracts using different measures of supermarket accessibility. Image from USDA.
Outcome 3: Evolution of brick-and-mortar grocery stores
With online shopping continuing to gain popularity and Amazon set to take over a major U.S. grocery chain, brick-and-mortar grocery stores may soon need to adapt to get customers through the door. "The stores will evolve to become more experiential," explains David Portalatin of market research firm NPD Group in an interview with NPR. Whether this means every Whole Foods will now employ the same 'no lines, no checkout' logistics as AmazonGo in Seattle remains to be seen, but change is coming.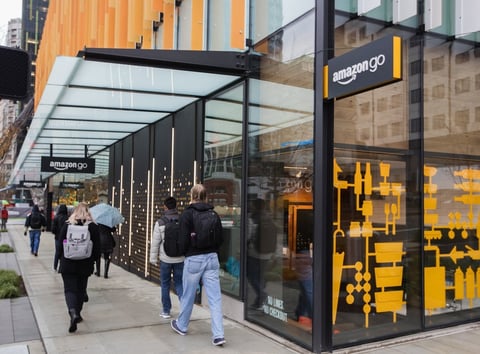 The Amazon Go concept store in Seattle, WA. Image from The Seattle Times.
To attract customers, stores may focus on product introductions, or holding events that turn stores into 'community centers' of sorts. "The stores could teach cooking classes and educate about food. There could be all kinds of initiatives to repurpose the brick-and-mortar store," says Portalatin. He goes on to note that a focus will be on enhancing customer convenience, meaning an increase in options like prepared foods and in-store dining.
Wait and see…
New analyses and reports will attempt to look into the crystal ball on what the future holds following Amazon's takeover of Whole Foods for months to come. If anything is certain, it is that change is on the horizon. At what scale? In what industries and sub-sectors? How fast? We will just have to wait and see.