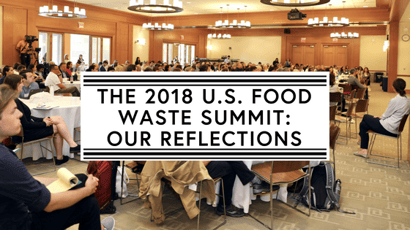 In late June, over 350 professionals with a vested interest in solving the United States' food waste problem gathered at the Harvard Law School for the U.S. Food Waste Summit, hosted by Harvard's Food Law and Policy Clinic and ReFED. Although attendees came from diverse backgrounds (e.g., industry; government; academia; nonprofit; entrepreneurs), everyone was there to share and learn how each other's organizations are working to reduce the 63 million tons of food that is wasted in our country every year.
With an agenda that spanned topics across the Food Recovery Hierarchy, it was a unique venue for cross-pollination and idea sharing between organizations that address different pieces of the food waste puzzle. For Spoiler Alert, it was an opportunity to connect with peers, learn from thought leaders, and further develop our understanding of how we can work within and among organizations to best serve the space. In reflecting on our experience, we want to share three thoughts that stuck with us.
Measurement is hard...but essential.
Measuring food waste provides "an empirical representation of inefficiency," LeanPath CEO Andrew Shakman explained during a session titled Measurement of Food Waste. Without knowing what food, how much, and why it is being wasted, it is near impossible to start a reduction program. But where you sit in the food supply chain can dictate how easy it is to obtain an accurate measurement of food waste generation. Think about quantifying waste in an office cafeteria versus a 300,000 square foot warehouse.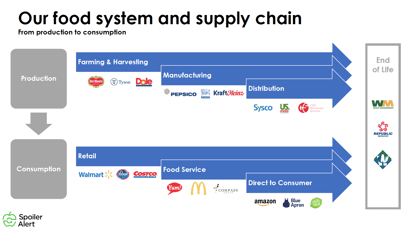 There is waste at each stage of the supply chain as food moves from farm to fork. Where you sit will dictate the strategies and methods used to quantify waste generation. Image from Spoiler Alert.
Within distribution or fulfillment centers, companies like Blue Apron are leveraging financial data, purchase orders, and fulfillment records to determine what product is lost (products purchased vs. products distributed). At the Summit, Blue Apron's Alison Grantham mentioned, "There is a difference between what you think you know, and what waste measurements from haulers show." Grantham stated how the company has seen success working internally and with ReFED to understand waste generation data, but Blue Apron still has a goal to accurately and comprehensively quantify waste generation.
At the farm-level, a major data gap exists between what the industry thinks is lost and what is actually happening. Researchers like Lisa Johnson with North Carolina State University work directly on farms and within farming communities to track crop losses. She explained that farmers are taught to plan for 20% crop loss, and therefore, this is the equation they use when reporting loss data. In reality, those numbers are likely much higher. Johnson mentioned there is a real need to communicate outlets for surplus produce to farmers so that they understand where they can send products before they determine whether or not to harvest.
Despite the difficulty around measurement, it is still the essential first step for understanding how to effectively drive reductions in waste levels. As Nell Fry from Sodexo put it, food waste data is necessary to prioritize actions. As companies begin to focus on waste reduction, investing in tools for accurate data measurement will be essential. At the Summit, Spoiler Alert's Chief Product Officer Emily Malina presented on a panel titled From the Get-Go: Emerging Food Waste Prevention Innovations about our company's solution for quantifying and ultimately driving reductions in distressed and unsold food inventory at food distribution centers.
Consumers waste a lot, but it isn't all their fault.
As a solution provider for businesses, we talk a lot more about the waste that occurs at the corporate level rather than in the home. But, we also recognize that a majority of the country's food waste (about 43%) occurs in homes, so it is important for us to stay updated on why that is, and what we can do to help stop it.
During a session titled Influencing Consumer Behavior, Laura Moreno, a PhD Candidate from UC Berkeley, discussed the social science realities of food waste that we must consider as solution providers. For example, Moreno points out that humans are conditioned to believe that the way food looks is a proxy for health, taste, and safety. When given the choice, would you choose the nice, round, red apple, or the pale, somewhat wrinkly, misshapen one? In addition, the consumer is subject to certain 'supply chain impacts' that can lead to increased waste. How easy is it to find a single-serving casserole dish for those that live alone? Up and down the supply chain, businesses must recognize these realities when developing consumer-facing education campaigns targeting waste.
Another thought-provoking idea came from Jonathan Deutsch, Professor at Drexel University. He posed the question, "Why are people so aware of the cost of food when they purchase it, but not the value of food when they throw it out?" By recognizing disconnects like these that we all experience in our daily lives, we can be more effective when educating our target demographics about the importance of waste reduction.


According to NRDC, about 37% of mothers and 50% of millennials in the U.S. are aware of the "Save the Food" campaign, the consumer education initiative from NRDC and the AdCouncil that targets at home food waste.
We need to act like a system to solve the food system.
Food waste is an extremely complex issue with a number of underlying causes and an even greater number of potential solutions. And with so many organizations working on the same issue, there are bound to be some tensions or stepping on toes. Recent sources of potential conflict include the fear that promoting organics recycling can cannibalize prevention, or that the rise of social enterprises redirecting surplus food products will diminish the volumes of food available for food assistance agencies. In both plenaries and panel discussions, there were references to these topics.
The food system is dynamic, consisting of many actors performing individual tasks that ultimately results in food moving from farm to fork. At each node of the supply chain, there is waste — and there are many factors (food type, quality, corporate culture, etc.) that will ultimately determine what strategies businesses will take to manage that waste. At manufacturing facilities, the food waste often materializes as byproducts that are appropriate for organics recycling; within food distribution hubs, product might have enough shelf-life to be sold in secondary markets; while in grocery stores, food is often at a point where it needs to be eaten immediately or will go to waste — "ripe" for food recovery organizations.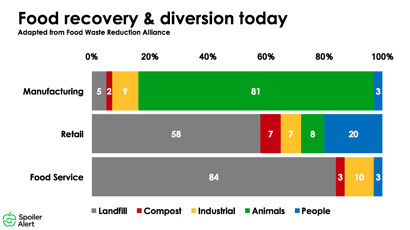 Analysis of 2016 data from the Food Waste Reduction Alliance shows how surplus food is managed across the supply chain. Image from Spoiler Alert.
To achieve an efficient food system — where food feeds people and inedible food is recycled to recover maximum value — solution providers need to work together and create holistic offerings that are dynamic, that feed off each other and mimic the system we're trying to ultimately protect. That's why this conference is so special: it is one of the only events where food waste recyclers can sit down with recovery agencies or prevention advocates and identify opportunities to collaborate. As Nell Fry from Sodexo noted, collaborating is necessary to create effective waste reduction solutions.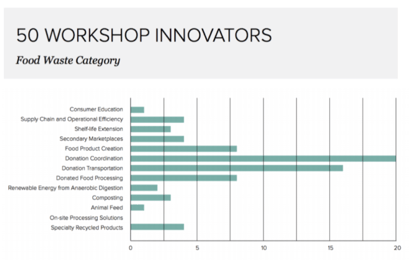 The breakdown of organizations that attended ReFED's Innovator Workshop, held immediately before the Summit, highlights the diversity of solution providers taking on the food waste issue. Image from ReFED.
But this isn't possible if we don't recognize and appreciate the value that all solution providers can bring and identify ways to empower each other, rather than place major focus on points of contention. In the end, 63 million tons of food going to waste is a lot, and it is going to take all hands on deck to get that number down.
Looking forward
Throughout the Summit, the conference organizers asked many of the presenters what we would be talking about in two, five, ten years; where will the food waste issue stand? Some were positive, pointing to the groundswell of consumer awareness of the issue, or the recent influx of funding from both private and public sources to support food waste solutions. Others not so much.
At Spoiler Alert, our answer is simple. We want to see food businesses throughout the supply chain recognize that surplus food or organic byproducts are valuable business assets that can be managed to positively impact the bottom line. When this is widely recognized, there is no doubt businesses will invest in the systems and solutions to maximize that value recovery, and thereby remove the need to call any food "waste" all together.