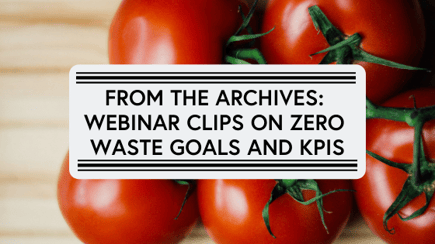 Last year, our team developed two short webinars to provide greater context around key concepts that inform how we operate as a business. These concepts — like our belief that holistic management of distressed and unsold inventory drives business value or that certain key performance indicators (KPIs) can help companies increase profitability while reducing waste — are fundamental to how we think about improving shrink management.
The following clips dig into these ideas in easy-to-understand, bite-sized segments.
The three most common food waste reduction commitments
Every year, U.S. businesses spend over $200 billion growing, processing, transporting, and disposing of 63 million tons of food that is never eaten. As a result, leading food companies have started to commit to waste reductions.
What is a holistic approach to managing distressed and unsold food inventory?
There are many factors that come into play when trying to get product out of inventory, which is why it's important to have networks of outlets in place to accommodate ever-changing volumes across product types.
Diversion Rate KPI: Benefits and important considerations
The KPIs that a company chooses to monitor progress against a waste reduction commitment directly inform the actions that company will leverage to accomplish this reduction. By calculating diversion rate, a company can gauge its performance on 'zero waste' and 'zero-waste-to-landfill' targets, because it assesses how much food product is sent to outlets other than MSW.
Recovery Rate KPI: Definition and important considerations
Across the supply chain, edible food fit for human consumption is lost or wasted for a variety of reasons (e.g., aesthetic standards; cancelled orders; packaging errors). Quantifying how much edible food is lost or recovered requires monitoring additional KPIs than diversion rate alone.
Which KPIs are right for my business?
Certain waste reduction commitments, and the KPIs used to track progress against them, may not be right for every business.
If these snippets caught your attention, we encourage you to watch the full webinars by following the hyperlinks below. Also, subscribe to our blog to receive occasional thought leadership articles and stay up-to-date on industry news.