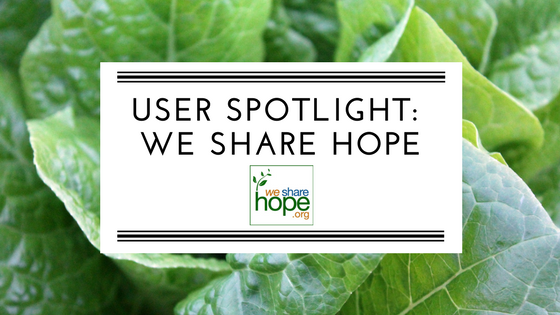 We Share Hope is a Rhode Island-based nonprofit founded in 2008 by James MacDougall, Stephen Martin and April Martin. We Share Hope is made up of a community of volunteers that donate their time, talent, and resources to improve and empower the lives of others. Their volunteers focus on locating, gathering, and distributing food to groups that are helping those in need. The organization strives to get healthy and wholesome food to people that are unable to easily and quickly apply for and receive state food assistance. According to the 2017 Rhode Island Food Strategy, roughly 12% of Rhode Islander's are food insecure, having limited or uncertain access to nutritionally adequate and safe foods. In this context it is clear that their work is especially critical.
We sat down with Cristina McKibbin, We Share Hope's Treasurer and Peter Letendre, a We Share Hope volunteer to learn more about their great work, recent growth, donor relations, and use of the Spoiler Alert platform.

Source: We Share Hope (Facebook Page)
Growth & Challenges
Cristina explains that having a clear focus on their mission has been key to expanding the 40+ communities served and 50+ organizations and affiliates they support. One inspiring facet of their mission is the "belief in changing entitlement to empowerment and restoring self dignity."
Too many people lack access to healthy, wholesome food. In addition, they face challenges and delays when applying for assistance. We Share Hope recognizes and strives to combat this. We Share Hope operates 7 days a week to rescue food and deliver it to these people as quickly and efficiently as possible. By focusing on this mission, they have been able to expand their fleet. Peter tells us that he used to pick up donations in the back of his car, and that the organization now has one reefer, four vans, and over 20 volunteers. This growth allows the organization to secure and distribute more food, further distances, while ensuring that food is handled in line with all food safety guidelines.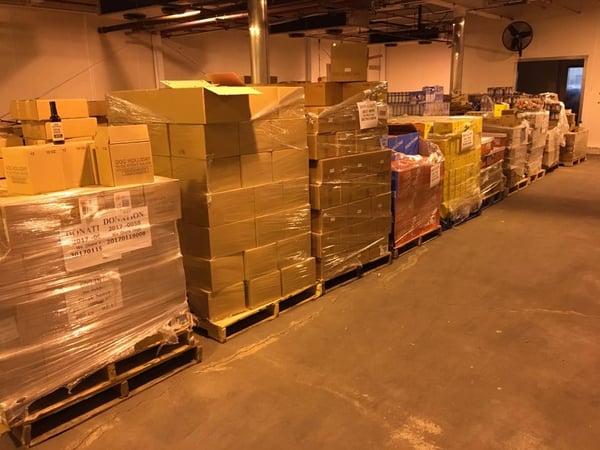 Source: We Share Hope (Facebook Page)
Peter, who brings his extensive career experience in food distribution to his work at We Share Hope, tells us that the organization has begun distributing its food through "empowerment centers", which is We Share Hope's concept for a marketplace where clients can directly select the food they want. People who receive the food come to the empowerment centers and they are able to get the food they need right away, Cristina says.
"When they come to the empowerment centers they make a small donation back to We Share Hope to help cover our operating costs. They are taking control of their lives and empowering themselves to be in a better financial position."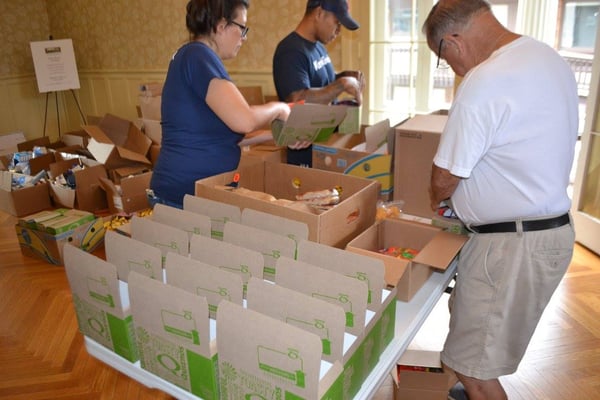 Source: We Share Hope (Facebook Page)
With We Share Hope's tremendous progress, has come some growing pains. Since We Share Hope depends entirely on volunteers, Cristina tells us "it has been difficult finding people who are willing to put in a lot of time and effort for no pay. Those people, who are committed, spiritually driven, honest, and a team player are not easy to come by."
As they continue to grow, they will need to find even more of these committed people to help them continue to drive their mission forward. Being tight on resources means that working with partners needs to be as streamlined and effective as possible, and we at Spoiler Alert aim to make everyone's job a little bit easier.
Partnering with sysco
We Share Hope receives food donations from the Sysco distribution facility outside of Boston. We Share Hope has regularly scheduled pick-ups of food donations from Sysco, where they receive mainly produce, and those receiving the food are always happy to see healthy, wholesome options. As mentioned above, there are many people across Rhode Island without adequate access to healthy, wholesome food, so this steady access to high quality produce has been especially beneficial. Peter tells us more about their relationship with Sysco:
"We are always treated as if we are Sysco's best customer. The people who receive the food are always thrilled when we arrive with Sysco products because they say that they always are very high quality."
Hosting this relationship on Spoiler Alert luckily hasn't changed very much for We Share Hope. After picking up donations from Sysco, We Share Hope is able to electronically sign and verify what they receive, keeping it simple and requiring little work on their end. By streamlining this process, Sysco is now able to use our platform's advanced inventory management, accounting, and reporting capabilities. Since both organizations are Spoiler Alert users, their donation activities are all tracked and stored for deeper visibility into their partnership. We hope this allows for the continuous enhancement of an already wholesome relationship.
Using spoiler alert
We Share Hope's Peter tells us that We Share Hope would like to utilize Spoiler Alert "to create a better relationship with their donors" and to "help their donors take full advantage of tax incentives". We at Spoiler Alert are honored to work with We Share Hope and continue to be impressed by all that they are able to do. We look forward to helping them grow their partners and overall impact on the Rhode Island community.

For additional information or to talk about how Spoiler Alert can enhance your current partnerships, please reach out to ari@spoileralert.com.