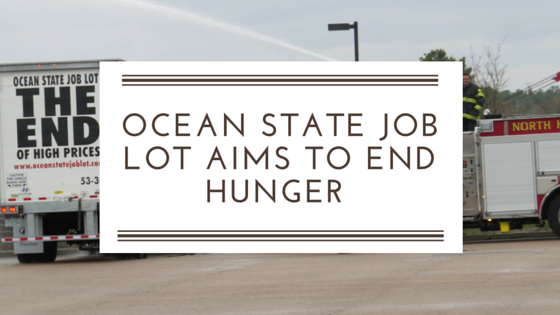 Our CEO Ricky Ashenfelter was invited to speak at the Ocean State Job Lot send-off event on April 26 to promote the company's "Three Square Meals" hunger relief program to alleviate the problem of food insecurity throughout the Northeast. The Rhode Island-based chain has grown to 122 stores across New England, New York, and New Jersey since 1977.
The program will distribute over 100 tractor trailer loads of food throughout the year to 15 food banks, which will redistribute to thousands of pantries, kitchens, and meal insecurity sites in Maine, Massachusetts, Vermont, New Hampshire, Connecticut, Rhode Island, New York, and New Jersey. The truck convoy send-off event was open to the public to come cheer on the trucks as they left the Ocean State Job Lot warehouse.
Ocean State Job Lot Executive Director David Sarlitto referred to Spoiler Alert as "the face of the hunger solution," explaining that collaboration among those who need and those who can feed is critical to solving food insecurity.
Truck convoy takes off from @OSJobLot for #ThreeSquareMeals initiative @ABC6 pic.twitter.com/xvsy5IwkMq

— Mike LaCrosse ABC6 (@MikeLaCrosse) April 26, 2016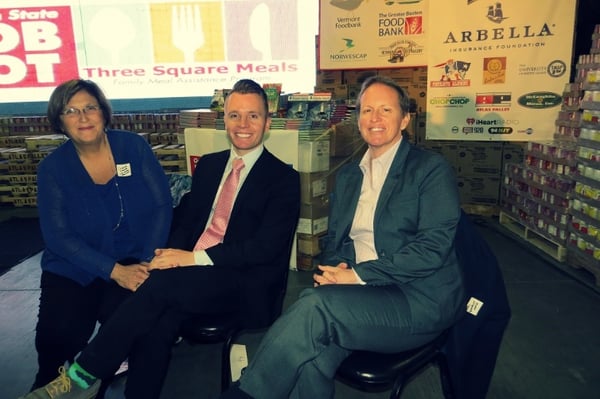 From left to right: Catherine D'Amato (President and CEO of the Greater Boston Food Bank), Ricky Ashenfelter (CEO of Spoiler Alert), (Mel Gosselin (Executive Director of the New Hampshire Food Bank and Food Factory).
"We've seen how technology and the sharing economy have transformed the way that businesses and consumers interact," said Ashenfelter. "Airbnb with home sharing; Uber with transportation; and hopefully in the not too distant future, technologies like Spoiler Alert with food recovery and waste diversion."
Read a recap of the event here.
Thanks to U, 2M less people will face hunger. Join the 4/26 food convoy #threesquaremeals https://t.co/UCcL32ioBz pic.twitter.com/WBtxRNmfFv

— Ocean State Job Lot (@OSJobLot) April 22, 2016
Great work @OSJobLot #ThreeSquareMeals program benefiting local food banks across the region pic.twitter.com/24wHRsiYcv

— James A. Diossa (@JamesDiossa) April 26, 2016
@OSJobLot #threesquaremeals caravan leaves RI to deliver truck loads of food to Food Banks across New England https://t.co/DXqBdfjkhD

— WorcesterCtyFoodBank (@WorcCtyFoodBank) April 26, 2016
TY @OSJobLot @PolarBeverages for donating TWO truckloads of food for those in need in eastern MA! #ThreeSquareMeals https://t.co/YfUQ7XHjps

— GBFB (@Gr8BosFoodBank) April 26, 2016
@OSJobLot donated 2 trucks of food to @RIFoodBank for #threesquaremeals food donation https://t.co/TCs0PBhqeK pic.twitter.com/pifnrOhE7h

— RI Food Bank (@RIFoodBank) April 26, 2016
We've been doing this program with @OSJobLot for 3 years. 750,000 meals! #threesquaremeals pic.twitter.com/vjuN9M3odg

— GBFB (@Gr8BosFoodBank) April 26, 2016
Thank you @OSJobLot and all of their generous customers who donated during #ThreeSquareMeals to help #EndHunger https://t.co/TP6KDgMuAG

— The Food Bank of WMA (@FoodBankWMA) April 27, 2016