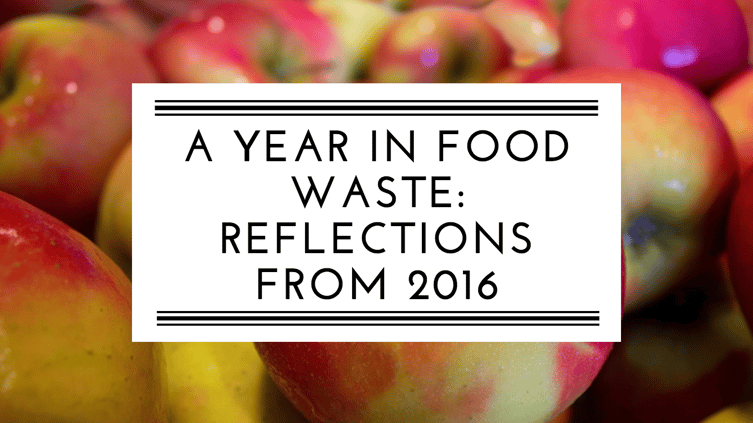 The holiday season is always a time of reflection, and as we continue into Spoiler Alert's second year of business, it's helpful to think about the progress being made in food waste reduction locally, nationally, and globally.
Last year, we recapped the top 12 food waste stories from 2015. This year, we're exploring the top stories on a month-by-month breakdown. From ugly produce's appearance on Shark Tank, to the release of the ReFED report, to the first ad campaign directed at a consumer audience, it's clear that food waste is only becoming more top-of-mind for those in the food industry and the general public.
Here are some of our favorite stories in food waste from 2016. Enjoy!
January
Photo credit: Tyler Golden/ABC
February
Harvard Food Law and Policy Clinic releases

a short documentary

on how misleading date labels on food products (such as "best by" and "sell by" dates contribute to food waste in America.
March
April
The Ad Council (creators of Smokey the Bear) and the Natural Resources Defense Council (NRDC) launch

a national ad campaign called "Save the Food"

to bring consumer attention to the issue of food waste and attempt to change household behavior.
May
Photo Credit: The Boston Globe
Spoiler Alert completes the 10th Techstars Boston program by participating in a pitch event known as Demo Day. We were named the company with the

"biggest potential impact"

by Xconomy.
Maine Congresswoman Chellie Pingree and Connecticut Senator Richard Blumenthal introduce

the Food Date Labeling Act

in an effort to standardize date labels such as "use by," "sell by," and "best by."
Photo credit: Noel Hendrickson | Getty Images

June
July
Spoiler Alert publishes a new resource —

A Beginner's Guide to Food Waste

. The guide is intended to be an overview of the current food waste landscape. It can serve as a primer for those looking for a quick guide to government calls to action, legislation, and online awareness campaigns.
The EPA reveals a

"Call to Action by Stakeholders"

website to identify current opportunities and challenges in reducing food loss and waste in the United States.
August
Photo credit: The Indepedent
September
The New York Times

features food waste in their Room for Debate column

, discussing , "How can the enormous amount of wasted food in the United States be reduced?" Our team was honored to be a voice in the dialogue with an op-ed written by two of our founders.
When an unexpected excess of organic eggs occurs at The Greater Boston Food Bank, Spoiler Alert helps find a home for nearly

11,000 eggs in under 3 hours

.
Photo credit: The Independent
October
November
Canada unveils a

national plan to reduce food waste

through new government policies, innovation in technology and community infrastructure, and shifting consumer behavior.
Photo credit: Soren Bidstrup/AFP/Getty Images
December
Spoiler Alert hosts the "12 Days of Food Rescue" social media campaign on Facebook and Twitter to highlight twelve notable transactions from the platform.
Our team wishes everyone a safe and happy holiday season. We look forward to great things to come in 2017!