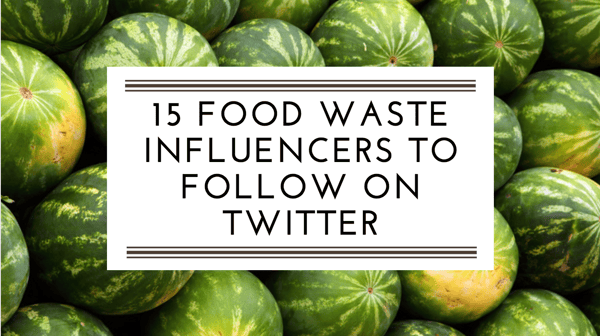 Here at Spoiler Alert, we use Twitter lists to organize different types of audiences we want to engage with. You can do the same! As a sustainability professional, it can be tough to keep up on all of the latest trends. If you're looking to curate a feed of relevant food waste news, we've compiled 15 influencers to get your list started.
1. Chellie Pingree
Maine Congresswoman Chellie Pingree has introduced two pieces of legislation to Congress in an effort to minimize food waste: the Food Recovery Act (in December 2015) and the Food Date Labeling Act (in May 2016).
Read more: We Waste So Much Food That Congress Might Actually Do Something
2. Christy Cook
As the Director of Sustainability for Sodexo, Christy leads sustainability efforts across Sodexo's North American 9,000 partnerships and is passionate about waste reduction. In October 2016, Sodexo announced their plan to support the "Save The Food" campaign through promotional materials in the serving and eating areas of its establishments.
Read more: "The Carrot or the Stick: Behavior is the Key to Change" by Christy Cook
3. Claire Cummings
As a Waste Programs Manager for Bon Appetit Management Company (BAMCO), a company that offers food services (such as catering and cafe services) to corporations, universities, museums, and specialty venues. Claire leds sustainability and waste reduction efforts across the 650+ accounts that BAMCO supports.
4. Dan Barber
Dan is the chef and co-owner of Blue Hill, which operated temporarily as wastED in March 2015 as "a pop-up devoted to the theme of food waste and re-use." He's been a continual advocate for food sustainability and how chefs can minimize their waste impact at the restaurant level.
Read more: At the Chef Dan Barber's Pop-Up, WastED, Bruised and Misshapen Bits Are Dinner
5. Dana Frasz
Dana is Founder & Director of Food Shift, an organization part think-tank, part social enterprise with a mission "to develop a long-term, sustainable infrastructure for recovering excess food that will create jobs for the unemployed." Most recently, she launched The Alameda Kitchen, which converts rescued produce into value-added food products for food insecure populations while simultaneously providing jobs for formerly homeless individuals.
Read more: This Start-up Aims to Shift Wasted Food to Those in Need
6. Dana Gunders
Dana Gunders works as a Senior Scientist at the Natural Resources Defense Council (NRDC) and is fiercely passionate about minimizing food waste. Through her work at the NRDC, she focuses on promoting sustainability throughout our food systems and supply chains. In 2012, she published, "Wasted: How America Is Losing Up to 40 Percent of Its Food from Farm to Fork to Landfill" and "The Dating Game: How Confusing Food Date Labels Lead to Food Waste in America" in 2013.
Since then, she's been featured in the Just Eat It film and published the "Waste-Free Kitchen Handbook." In April 2016, she revealed the "Save the Food" campaign, bringing consumer attention to the issue of food waste, aiming to change household behavior.
Read more: "Simple Steps by Consumers Can Curb Food Waste" by Dana Gunders
7. Dave Stangis
Dave is the Vice President of Corporate Responsibility & Sustainability and the Chief Sustainability Officer for Campbell Soup Company, which was just named one of the 15 Inaugural 2030 Food Loss and Waste Champions and Stakeholders along with Sodexo. We included Campbell Soup Company in our post: 7 Inspiring Sustainability Reports: Must Reads from the Food Industry.
Read more: Dave Stangis Stirs in Sustainability at Campbell Soup
8. Emily Broad Leib
Emily Broad Leib works as the Director of Harvard Law School's Food Law & Policy Clinic, which released EXPIRED, a short film highlighting how date labels impact food waste. She was recently named to Fortune's list of "2016 Most Innovative Women in Food and Drink".
Read more: "Is That Milk Past Its 'Sell By' Date? Drink It Anyway." by Emily Broad Leib
9. John Mandyck
John is the Chief Sustainability Officer for United Technologies Corporation and co-author of Food Foolish. He also occasionally writes for the Huffington Post and blogs at SustainabilityView.com.
Read more: Understanding Food Waste, Hunger, and Climate Change with John Mandyck
10. Jonathan Bloom
Jonathan blogs at Wasted Food, and published American Wasteland in 2010. He frequently contributes to Food Tank, and he also writes a column called "Dear Wasted Food Dude" for BioCycle.
Listen more: The Ugly Truth About Food Waste In America
11. Jordan Figueiredo
Anti-food waste advocate Jordan Figueiredo tweets from his @EndFoodWaste account as well as runs the @UglyFruitAndVeg handle, which features fan photos of cosmetically blemished produce.
Read more: "Getting Ugly Produce onto Hungry People's Plates" by Jordan Figueiredo
12. Kristin Musulin
Kristin is the Editor of Waste Dive, which features news about waste management, landfill operations, trash collections & disposal, sustainability, and zero waste.
Looking for even more waste-related accounts to follow on Twitter? Check out Kristin's article recent article below.
Read more: "10 Waste-Related Twitter Accounts to Follow Right Now" by Kristin Musulin
13. Meghan Stasz
Meghan is the Senior Director, Sustainability for the Grocery Manufacturers Association. She also is involved with the Food Waste Reduction Alliance, a food industry initiative of the Grocery Manufacturers Association (representing food and beverage companies), the Food Marketing Institute (representing food retailers), and the National Restaurant Association (representing the foodservice industry).
Read More: Grocery Manufacturers Association Uses Storytelling to Promote Sustainability and Food Waste
14. Sam Kass
Sam Kass is a former White House Chef under President Barack Obama. Throughout 2009 - 2014, he served as Obama's Senior Policy Advisor for Nutrition Policy and worked with Michelle Obama on the Let's Move! campaign. He's passionate about sustainability and local foods and became a Senior Food Analyst for NBC News following his time in the White House. Most recently, he's turned his attention towards minimizing food waste.
Read more: "This Is the Missing Ingredient in the Climate Change Fight" by Sam Kass
How do we keep good food out of the trash? https://t.co/s7XfV6yPmU @chefsamkass #SpotlightHealth #foodie #FoodieFriday pic.twitter.com/iFWUPSUB0X

— Aspen Ideas Festival (@aspenideas) November 4, 2016
15. Tristram Stuart
Stuart is the founder of London-based organization Feedback, an organization that creates campaigns to end food waste. In 2016, he launched a beer made with fresh, surplus bread called Toast Ale. Watch his 2012 TED talk below.
Read more: "Tristram Stuart: Waging War Against Global Food Waste"